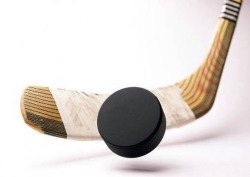 Update:
A father who says his son was one of the St. Mary's College players involved in Saturday's hockey game says he has made a complaint with police in Sault Ste. Marie, Michigan about what he says was "excessive force."
The incident was captured on video. The father said the footage has been turned over to police.
*************************
Original story:
A game between high school hockey teams from each side of the international bridge was halted early on Saturday afternoon.
A game between the Sault High Blue Devils from the Michigan side and the St. Mary's Knights from the Ontario side was called by officials after a brawl with seconds remaining in the second period.
With Sault High leading 3-2, an altercations started between players on both teams.
"We had a small scrum in front of the net, all three officials were trying to separate players and maintain a little bit of order, which is what their job is after every whistle," Sault (Mich.) Area Hockey Director of Officials Murray Meehan told Eagle 95.1 radio following the game. "One official was separating one of the St. Mary's players from the Sault High player and had to actually use a little extra pull to get them apart, the player turned around and punched him."
Police were called as well to help resolve the incident.
The game was a part of the Lynn Auto Parts Showcase, being held at Pullar Stadium on Friday and Saturday.
The Sault Ste. Marie High School Hockey league is investigating the incident.
*************************
Editor's note: Comments on the above article have been disabled due to persistent inappropriate postings. SooToday.com's View Room is available for general discussions. Please read our Terms of Service before commenting on any comment section of SooToday.com.