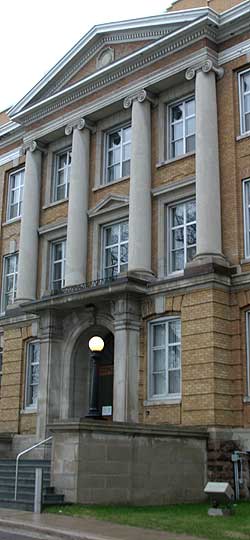 It is now up to a judge to decide if Cynthia Jacobs, the former Algoma University employee who pleaded guilty to defrauding the school of $391,000, goes to jail or receives a conditional sentence.
Ontario Court Justice Melanie Dunn heard final submissions Monday from defense attorney Don Orazietti and assistant crown attorney, Dana Peterson, at the Sault court house.
Dunn will set a sentence date on April 14.
The judge also heard a tearful apology from Jacobs, 54, at the end of arguments. Jacobs told the courtroom how sorry she was for her actions, and the embarrassment she has caused everyone, including her family.
Among those in attendance at Monday's sentencing hearing was her son, Brad Jacobs, skip of Canada's Olympic gold medal winning curling team.
Orazietti argued that his client did not deserve jail time for a number of reasons, but focused on what he described as "exceptional" mitigating factors for the embezzlement that occurred over six-years beginning in 2006.
He noted that Jacobs has a medically confirmed gambling addiction that fueled her theft, and she was not criminally responsible.
"We don't send people to jail who aren't criminally responsible. We send them to hospitals," he stressed.
Orazietti has asked for a conditional sentence of 18 months, followed by probation, and continued counseling for Jacobs' gambling addiction.
He pointed out also that his client is willing to do community service as part of any sentence.
Peterson countered that because of the amount of money taken by Jacobs, a jail sentence was warranted as a general deterrent to others.
The Crown is asking for jail time of 18 months, three years probation, and full restitution of the $391,000 to Algoma University.
"I take no pleasure in saying Ms. Jacobs should go to jail, but this isn't about pleasure," Peterson said. "It is not illegal to have a gambling addiction. But it is not legal to steal to fuel that addiction."
She added that during the six-years Jacobs was taking money from student accounts sponsored by various donor organizations, she had ample time to seek help for her gambling problem.
"She could have begun her rehabilitation earlier over the course of those six years. Knowing there was a problem, she chose not to do anything about it until the pressure was on."
While both lawyers referenced past court decisions to support their sentencing recommendations, Peterson spent several minutes drawing parallels to another Sault fraud trial in 2006.
In that case, Yvonne Pountney, a bookkeeper who embezzled more than $300,000 from her employer, Savoy's Jewellers Ltd., was sentenced to a 16-month jail sentence, three years probation, and a restitution order to repay the stolen money by Superior Court Justice Gladys Pardu.
The decision was later upheld by the Ontario Court of Appeal.
The crown attorney pointed out that Pountney also was a first-time offender, had pleaded guilty, expressed her remorse, and had a similar gambling addiction.
Regarding restitution of the stolen money, Peterson said in the 18 months since Jacobs was charged with fraud, she had not paid anything back to the university.
"A year-and-a-half later, there has been no effort at restitution. Not a single dollar has been returned."
Although Orazietti did not mention restitution during his submission, he did stress the impact the loss of Jacob's 30-plus years of employment at AU was having on her family who were struggling to pay monthly bills.
Orazietti also pointed out weaknesses in the prosecution's comparison to the Pountney sentencing.
He said that unlike Savoy's Jewellers, a small family-run business, there was no concrete evidence that the actions of his client had hurt the reputation of Algoma University whose enrolment continues to grow.
Orazietti said Jacobs was under enormous stress and a heavy workload in her job as student accounts officer at AU, and her university managers were "insensitive" to her situation at the time of the fraud.
He also suggested that she was not in a position of fiduciary trust in her job, and had she been given more support, the events that unfolded may have been avoidable.
"They abandoned her when she was in difficulty, and now they are placing the blame on Ms. Jacobs."
Orazietti described the events surrounding Jacobs' crime as a "tragic situation".
Mounting job stress that was going ignored by her supervisors, family pressures, and her then unidentified gambling addiction had created what Orazietti said was a recipe for a "perfect storm".
He said Jacobs' gambling represented "a temporary high" to relieve the burdens she was facing at work and home.
As for a jail term representing a deterrent to anyone else in similar circumstances, Orazietti said, "This does not send a message to anybody."
Editor's note: Comments on the above article have been disabled due to previous inappropriate postings on the subject. SooToday.com's View Room is available for general discussions. Please read our Terms of Service before commenting on any comment section of SooToday.com.