At nearly $123 million spent on jewellery annually in Canada during the holiday season, these adornments are among the most popular gifts exchanged.
Why?
Jewellery is a suitable gift at any age, can be passed from generation to generation and can put you at the top of the nice list as a most memorable gift-giver.
Recently, SooToday.com polled 2268 SooToday.com readers and asked the question: What kind of jewellery would you most like to receive for Christmas?
The poll ran from October 10 to October 31. Of the 2268 votes, we can determine that 1502 are from within the community.
So, what did we find out?
Earrings (26% of respondents) and rings (25% of respondents) top the jewellery gift list for Saultites this holiday season, with earrings being the most coveted by women.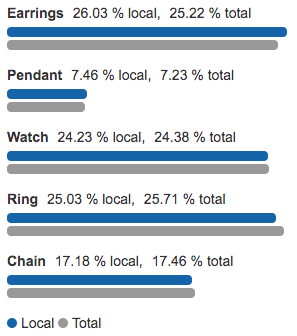 "Earrings are popular gifts because they are versatile," says Nicholas Rosset, co-owner of Savoy's Jewellers. "They are simple but sophisticated, come in varying styles and can make a big impact while fitting almost any budget."
Nick says some earring trends that are popular this holiday season are round diamond solitaire studs, as well as Swarovski brand earrings and new designs from Ania Haie.
And for the men, when asked what kind of jewellery they would be most excited to receive, a watch was most popular.
"For men, and women, watches are popular gifts because they are an outfit staple," adds Nick. "They're useful, designed to be worn daily, and like earrings, watches are versatile and can be selected to match the personal style of your friend or loved one."
"A watch is one of those special and memorable gifts and they often become an heirloom."
Nick says blue dial watches are one of the most popular styles of watches for men currently. "Tissot brand with Swiss made quality and style are a popular choice because they are built to last and have timeless styling."
"Since watches can be personal, we [Savoy's Jewellers] always like to hear a bit of the backstory behind the gift so we can help match the timepiece with who will be wearing it," adds Nick. "This is one of the best parts of the job - getting the opportunity to hear our client's stories."
Among the jewellery gift options included in SooToday's poll, pendants fell to the bottom of the list behind chains. But don't count this item out as a gift option.
"People can have misconceptions about contemporary pendant styles," explains Nick. "Pendants can be more than delicate diamond settings or traditional crosses. There are great alternative options like Italian steel dog tag-style pendants or uniquely shaped Swarovski crystal designs."
To browse the latest gift ideas from Savoy's Jewellers including earrings, pendants, rings, watches, chains and more visit savoysjewellers.com. For more information visit Savoy's online or either of its two locations at 290 Queen St. E or 293 Bay St. inside the Station Mall.
---
*Results are based on an online study of adult SooToday.com readers that are located in Sault Ste. Marie. The margin of error - which measures sample variability - is +/- 2.03%, 19 times out of 20.
SooToday.com uses a variety of techniques to capture data, detect and prevent fraudulent votes, detect and prevent robots, and filter out non-local and duplicate votes.