On the morning of August 31, Sydney Mooney, a long-time employee at THE TEN SPOT® beauty bar, came in early for a staff meeting. However, this was no ordinary meeting.
"Normally I catch on to things pretty quickly, but on the morning of my fifth anniversary at THE TEN SPOT®, I did not!" says Mooney. "I thought we were meeting early to discuss some new products that were coming in. When I arrived, I was shocked. All my coworkers and April were there waiting for me with mimosas, scones, a balloon tree and a beautiful cake. A gorgeous flower arrangement was delivered shortly after. Just when I thought the surprises were over, there were gifts. I felt so appreciated and loved by everyone."
April Simard, owner/operator, says, "We are in the business of making people feel like a 10. This applies especially to our employees. So, we wanted to celebrate Syd and her five years working with us. We presented her with a TEN SPOT branded Tiffany bracelet representing just how important she is to us."
Simard continues, "It was a sentimental moment for me. I'm truly proud of the work we have done together. Syd and I have worked closely to build the business and the clientele, to maintain a positive atmosphere for our staff and guests and navigated through the ups and downs of the pandemic. Five years is a great accomplishment."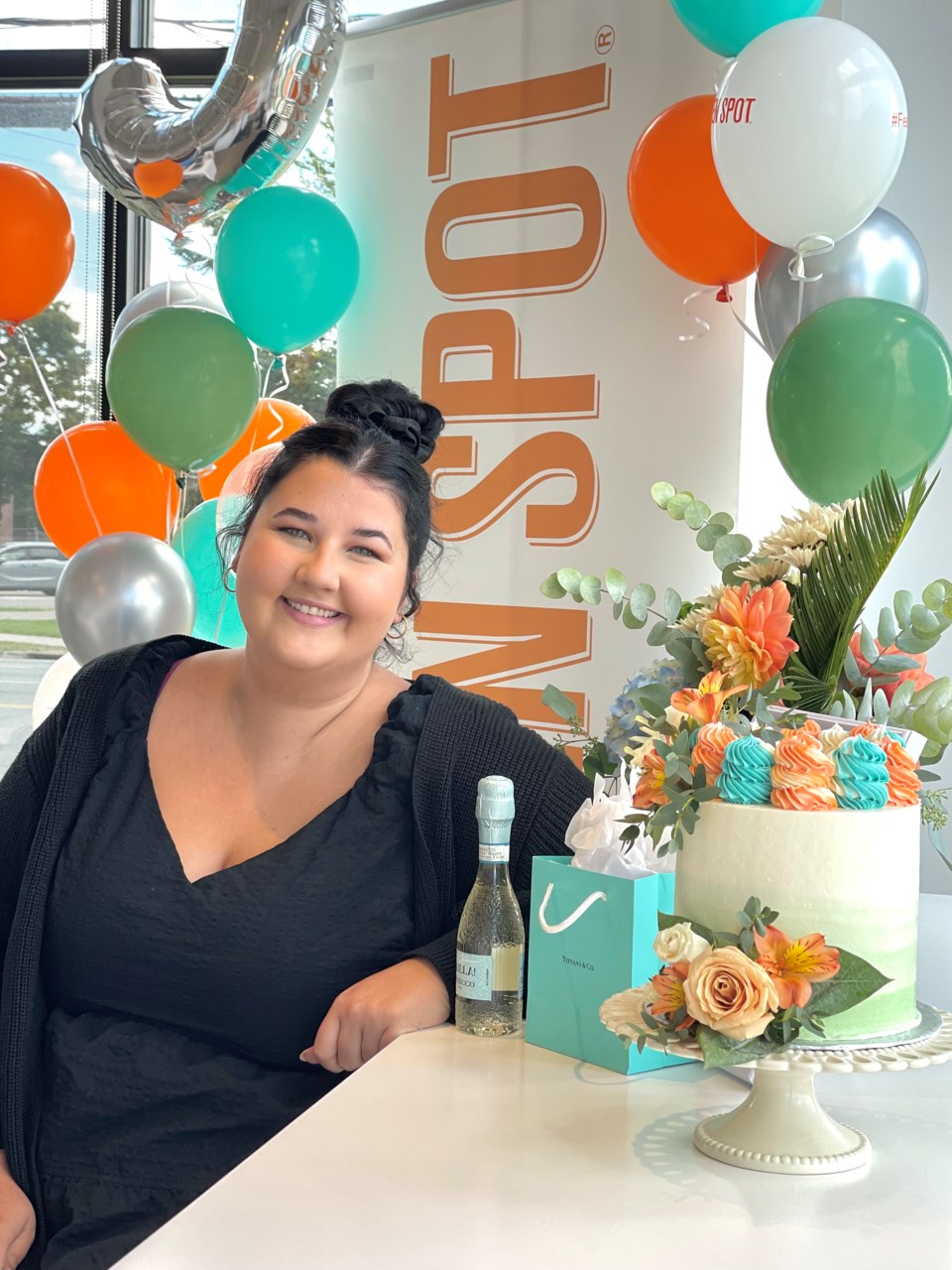 THE TEN SPOT® is the one-stop-shop for all your beauty needs.
You'll feel like a 10 in this fun, cheeky and all-inclusive atmosphere where you can indulge in head-to-toe self care, including waxing, laser hair removal, brows, lashes and more. Whether you are a guest in THE TEN SPOT® Sault Ste. Marie location or a lucky recipient of the community appreciation "ambushes," the team changes lives in and outside of the salon.
But it's not just the guests and community that benefit from THE TEN SPOT®. Great care is taken to ensure the team has a wonderful place to work and express their talents.
"We strive to make our employees, aka our 10spotters, feel like a 10," explains Simard. "We maintain a positive work environment and provide everything that our esthetic experts need to be successful in mastering their skills and building their clientele. This includes additional training, tools, a clinically clean environment and top-of-the-line professional products. We manage all appointment scheduling and marketing. We do this to ensure the team is guest-care focused so they can build their repeat clientele, focus on their craft and do what they love.
Mooney, calls her five years with the brand "amazing."
"This place is like no other when it comes to making their employees and guests feel like a 10! It is our slogan, but it's also something we all live by everyday. When everyone starts here, they are informed of our core values: make everyone feel like a 10, own your role, love the details, reject neglect, embrace the change and be in it together. These are things we always have in the back of our mind to create a happy, cooperative, fun work environment."
She continues, "One of my favourite things about working here is the relationships I've created over the years. Brad and April have become like family and I value them so much. My coworkers are also people I would call family; I love spending time with them every day. We are all able to work together, help out one another and be a team. I've also created, over the years, professional relationships with our guests. Knowing most of the people who come in the door and having a built connection with them is an amazing feeling at work."
"The environment I get to work in everyday is one where I feel supported and like my goals and future are strongly valued," concludes Mooney. "My opinions and ideas are always taken into consideration. I am so lucky to have this be my place of employment and I look forward to all the years to come."
Whether you are looking for the ultimate care in a beauty bar or are looking to hone your skills in the ideal work environment, you have a spot at THE TEN SPOT®.
Visit their website to learn more.