Northern Ontario-based home phone, TV and internet provider Sunwire Inc. is launching it's monthly Loyalty Draw. Sunwire's Loyalty Draw is our way of giving back as well as saying: "Thank you."
Every month, one lucky Sunwire home internet subscriber will be awarded FREE Home Internet for 1 whole year!
In addition to this, the winner will also receive a Sunwire Swag Bag PLUS Sunwire will also make a $500 donation to a registered charity of the winner's choosing.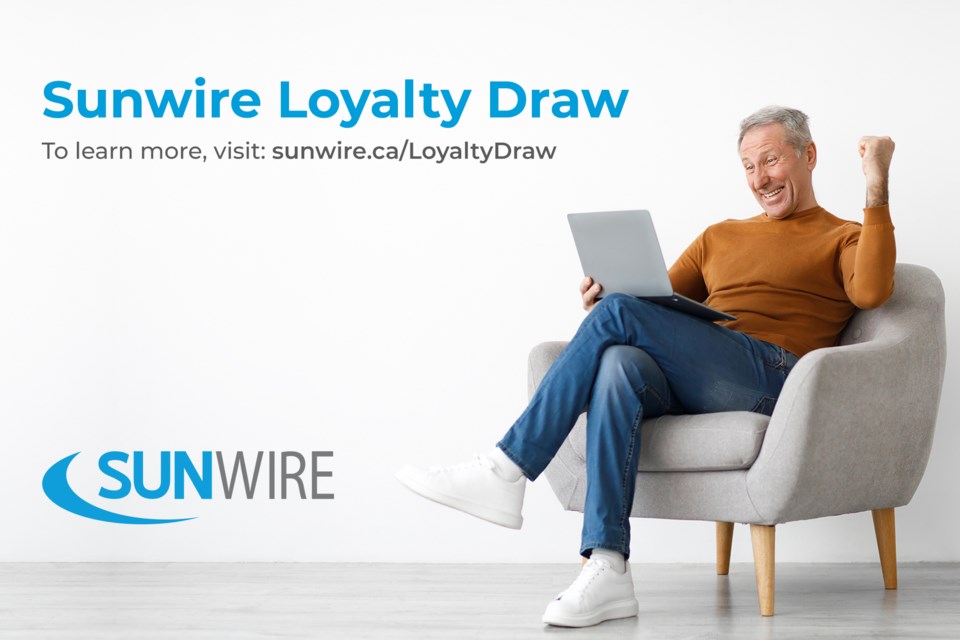 "In mid-2020, during a peak-time of the pandemic, we ran a #SupportLocal campaign where we gave away 1-year of free Sunwire Home Internet to existing customers. The positive feedback we received was great." says Derrick Chartrand, Sunwire's Director of Communications.
"While companies often have promotions for new customers - we wanted to launch an initiative that would also reward existing loyal customers. Adding a donation on top of the prize is just another way to not only show our customers that we appreciate them but also that we appreciate the community in which they live."
The first draw will be held on Tuesday, October 4th 2022.
Draws will continue to take place on the second weekday of each month - every month! No formal entry is required. So long as you are a Sunwire home internet subscriber in good standing at the time of the draw – you'll automatically be entered.
Winners will be notified by the telephone number or email address on their account and announced on Sunwire's social media. Full program details can be found by visiting them online.
About Sunwire Inc.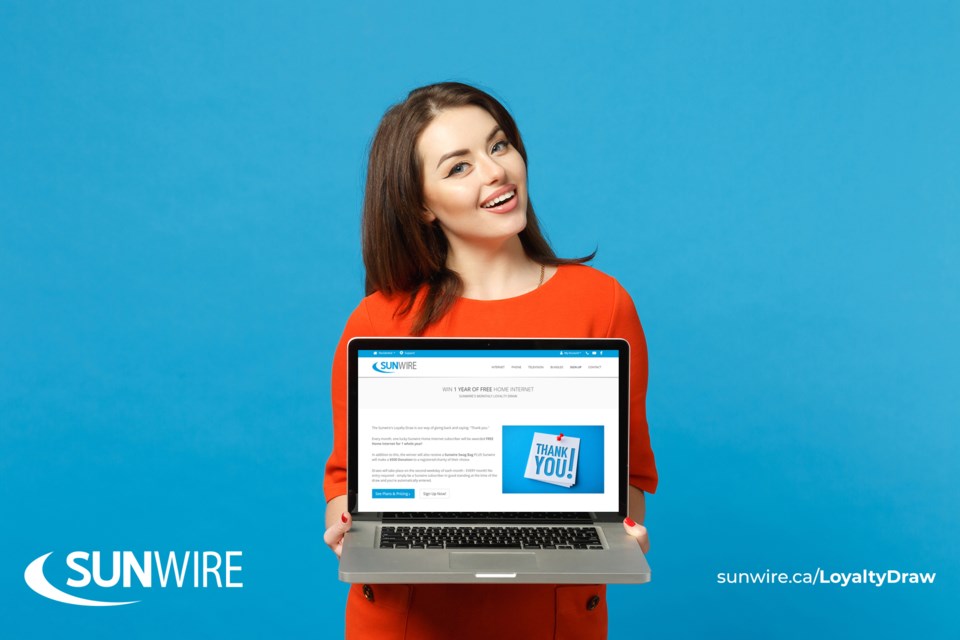 Sunwire Inc. was founded as a software development firm in 2009, achieving early success by developing a state-of-the-art telecommunication platform – the SolSwitch. The SolSwitch has since gone on to process over 1 billion telephone calls for tens of thousands of homes and businesses across Canada. Due to the quick success of the SolSwitch platform, and to complement its telephone services, Sunwire added Internet to its portfolio of business offerings.
In 2016, Sunwire introduced high-speed Home Internet and Home Phone service to Greater Sudbury. Shortly thereafter, Sunwire expanded its footprint throughout other Northern Ontario communities followed by Southern Ontario regions. In early-2021, Sunwire TV was introduced – featuring all of today's top HD channels as well as PVR capabilities. Today, Sunwire has more than 50 local employees, is one of Canada's Fastest-Growing Companies and has satisfied residential and business internet, TV and phone clients across all of Ontario and beyond.
To learn more about Sunwire, visit them online here.