Supporting bereaved clients at the Arthur Funeral Home, Joni Cooke saw first-hand the importance of seizing the day and living life with no regrets. This knowledge played a big part in her decision to retire, in January 2023.
"Working here, you realize you can't take things for granted. You don't get a do-over," said Cooke. Her plans include more travel, and the opportunity to spend more time with her adult children, who don't live in the area. "I want to be able to visit them without time constraints," said Cooke.
Looking back over her more than 30-year profession in the bereavement sector, Cooke felt nothing but gratitude for her experiences, and most importantly, the relationships she has forged.
"You meet people time and time again, as people experience a death several times in their life. It's a privilege when they say, 'We dealt with you last time, everything was well handled, and you took really good care of our family; we really appreciate what you did.' That's pretty special, you never take that for granted," Cooke mused.
Funnily enough, Cooke never thought of working in the bereavement sector.
"I wanted to be a flight attendant, and work in the travel sector," she explained. "I was actually working at a travel agency and was boarding with the owner of the funeral home. He kept telling me I needed to work for them, asking and asking. Finally, I said I would try it for two weeks."
At the end of the two weeks, he told Cooke she should go to school and persuaded her to go to Humber College for the funeral services program. She did, and never looked back. "I am so grateful he persisted," she said. "He told me, you're just travelling in a different direction now," she laughed.
To help prepare her workplace for her retirement, Cooke stepped down from her role as manager to assistant manager almost a year ago, in order to mentor Zak Good, her replacement in the managerial spot.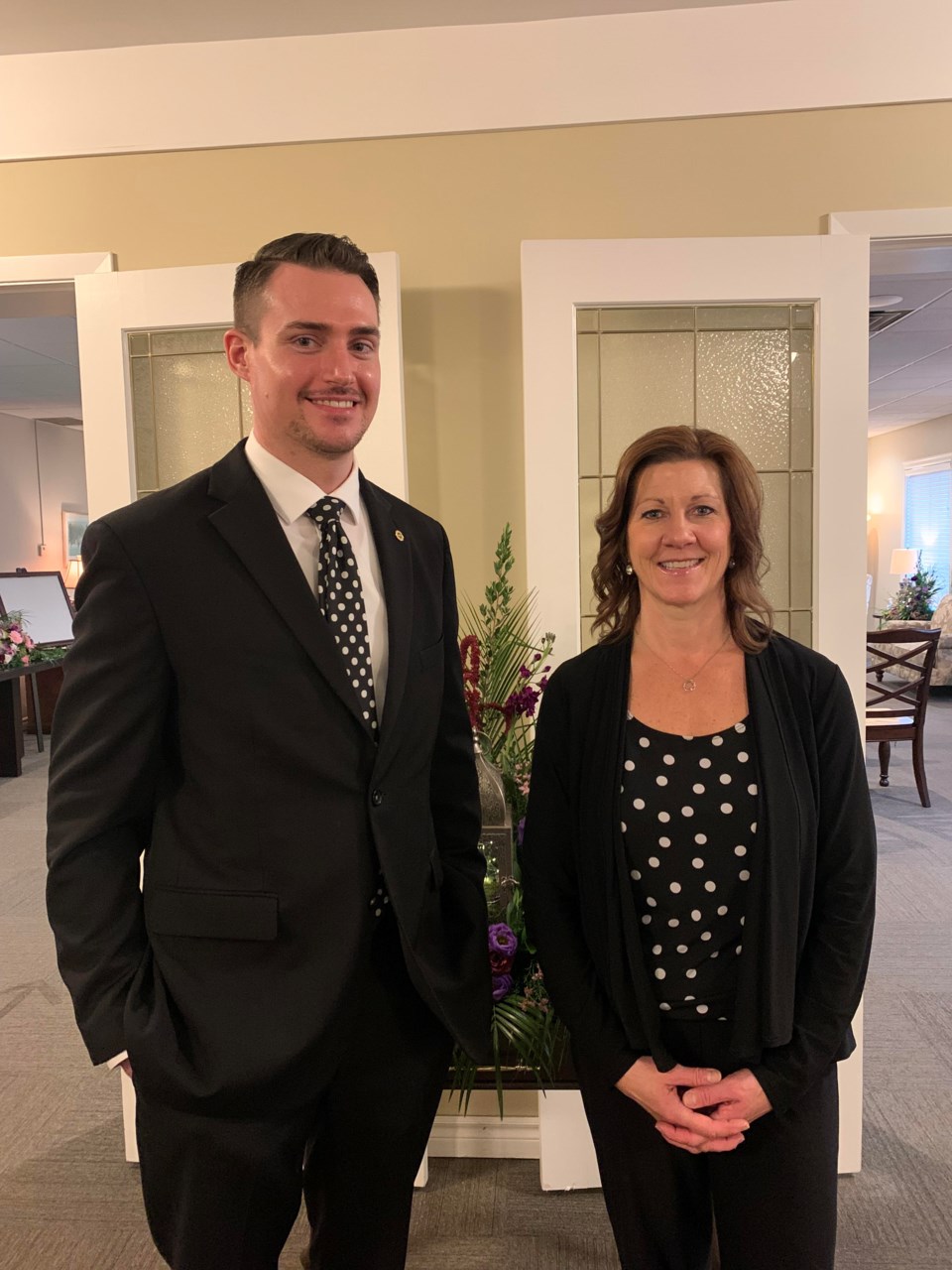 "I have been fortunate to have Joni stay for a year to help me transition into the manager position," Good said. "Through her extensive network, she has introduced me to many new contacts both in our company and our community. She has also been a valuable resource as an advisor throughout the past year."
Good earned his diploma in funeral service education from Humber College and then his funeral director's license in 2012, but has been working in the industry since 2009.
"I'm proud of our team, guiding families through one of the most challenging times in life with the utmost professionalism and empathy," said Zak. "I am comfortable and confident in leading our team forward into a new era in funeral services."
Cooke added, "It's time for a change. It's time for the younger generation to step up. They don't necessarily need to do things the way I have always done them. Handing over the reins is not a bad thing when you do it on your own terms. I feel really good about it."
Happy retirement Joni Cooke, and enjoy your role as manager, Zak Good!
Learn more about Arthur Funeral Home - Barton & Kiteley Chapel online here.