People who work closely with Ontario's construction industry know the challenges facing this important employment sector. With estimates suggesting one in three journeypersons are over the age of 55, the province is facing a looming shortage in skilled trades people which could have significant impact on post-COVID economic growth and overall quality of life in Ontario.
Add to that a shortage – some would say "unwillingness" – of individuals interested in filling labour jobs on construction sites, and it's easy to see why developers and construction companies are taking longer to complete building projects.
Despite the challenges, there are strides being made to help builders move projects toward completion in quicker fashion.
Take, for example, the products being manufactured and sold by Norquay Trusses.
The company was founded in 2020 by Scott Beaumont, P.Eng with the goal of providing pre-fabricated engineered wood products to the Northern Ontario construction market. Norquay products include vital building components like custom wood roof trusses and and I-joist/lvl floors and beams. However, it's their prefab wall panels that are helping move things forward in expedited fashion on construction sites, this according to Norquay Trusses owner, Scott Beaumont.
"As construction evolves there's more and more demand for these types of products," said Beaumont, owner of Norquay along with Lyons and Island Timber which sells the products locally and through a dealer network across Ontario.
"There's definitely a labour shortage affecting housing demand in Ontario. Pre-fabricating wall panels assists in speeding up construction and taking advantage of the computer modelling and off-site fabrication of the wall units. This was a business opportunity we wanted to pursue and grow."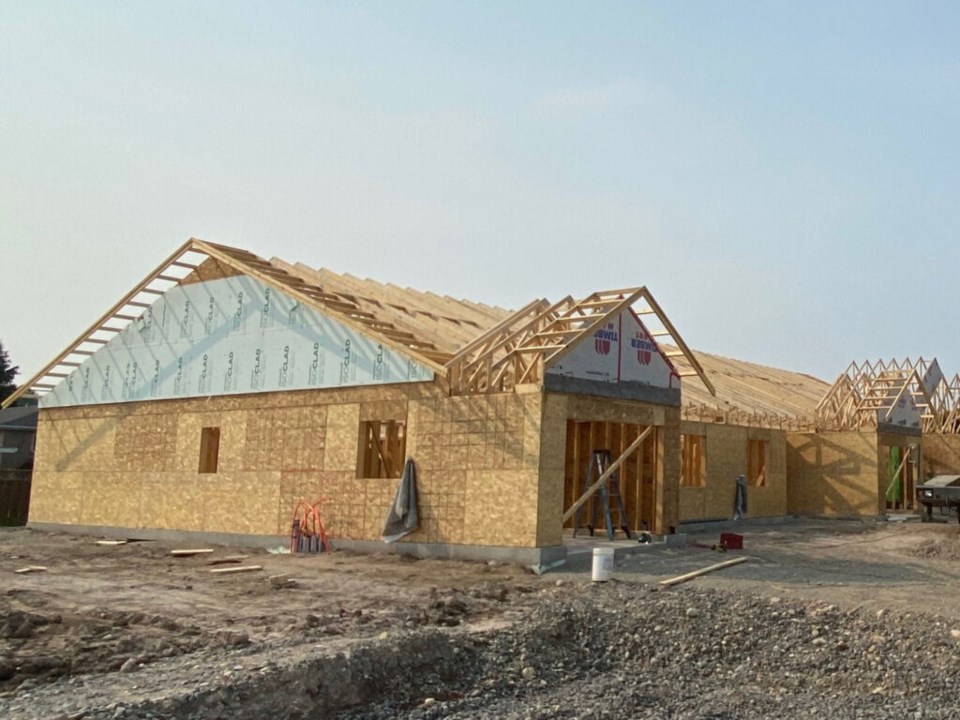 According to Beaumont, all wall panels are custom built offsite to any plan and shipped to site as soon as the foundation is complete, saving time and costs. Norquay currently offers two prefab wood framed wall options, the Conventional Wall and High Performance Insulated Wall.
"The Conventional Wall is built offsite in the production plant incorporating wood studs and osb wall sheathing, and includes all window and door openings, structural headers and columns required to support the roof truss loads," said Beaumont.
Prefab walls are shipped to site and can be installed within hours. They are suitable for any addition or new construction building project, from a shed or house to a commercial wood framed building.
The High Performance Insulated Wall builds on the Conventional Wall, but incorporates add-ons including air/vapour barrier/water resistive barrier/thermal insulation, and can even include windows preinstalled. The High Performance Insulated Wall is shipped to site and the building is ready for siding, HVAC/electrical plumbing, and drywall within hours or days.
"The building is assembled quickly on site saving months of construction time," said Beaumont. "The owner is left with a high performance building at comparable costs to traditional site construction."
Beaumont said Norquay Trusses focuses on providing quality products and design services. Their technicians and engineers can work with any construction plan to provide engineered components. "There's no architectural limitation to what we can do regardless of model," he said.
Learn more. Visit the Norquay Trusses website.