Paint & Decor Concepts is a local Benjamin Moore paint dealer in Sault Ste. Marie that focuses on client collaboration, which allows them to achieve the desired results without resorting to costly and time-consuming construction. The team uses sustainable and local materials and recycled artwork to create a unique and inviting space.
A sustainable approach
Paint & Decor Concepts was approached by Quattro Hotel & Conference Centre director of rooms Cindy Beauchamp during the COVID-19 pandemic to refresh the hotel's entryways.
Amelia Ritchie, creative lead and owner of Paint & Decor Concepts, and her team went on to create large artwork and added plants, making the entrances more welcoming for guests.
When Amelia returned the hotel key, Cindy approached Amelia to come up with a design to refresh the lobby. "The lobby was dated, but it has beautiful bones," described Amelia, "and neither of us wanted to get into a full renovation'."
Amelia and her logistics co-ordinator, Amber Ranger, took a sustainable approach to the lobby's design, inspired by their visit to 1 Hotel in Toronto. After General Manager Mike Braykovich approved the designs, the team was ready.
Everything was recycled and created in-house, including the artwork, tables and signs. Amelia said she used materials from nature and local suppliers.
"We went foraging, I went up north to get the moss, and we used all these things that have a great story. And although our team is passionate about our story, a lot of people just like it because it looks really, really good, and it is sustainable," said Amelia.
Taylor Graham, a creative on her team, created a burnt wood sign made from a large slab of Spruce from St. Joes Island for the hotel lobby. The result was a stunning transformation of the whole space that impressed the hotel's management.
After the success of the lobby renovation, The team at Paint & Decor Concepts was commissioned to transform the hotel's Christmas decorations. The studio aims to continue using its sustainable approach in its designs, providing guests with a unique and eco-friendly experience.
For their most recent project at Quattro, they were asked to revamp the Quattro Hotel's penthouse, a project Amelia and her team accomplished with the same sustainable design approach. In addition to the no-demo refresh, Amelia's team created custom furniture pieces and unique artwork to elevate the penthouse's interior.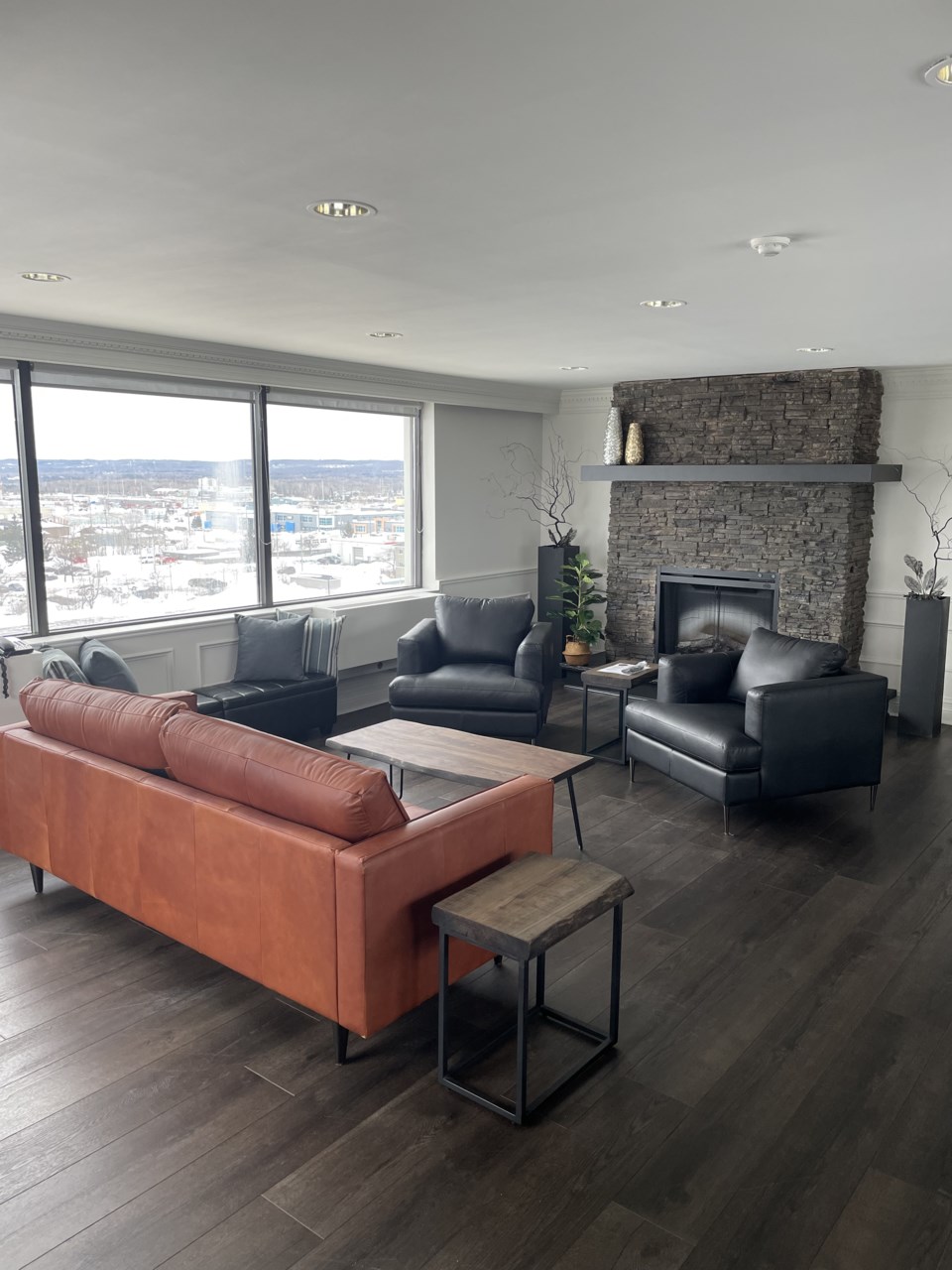 Transforms spaces with non-invasive facelifts
The Paint & Decor Concepts team is changing the game when it comes to transforming spaces. Rather than going for a full-scale renovation that can be time-consuming and disruptive, the company focuses on non-invasive design that is both quick and cost-effective.
"You'd be surprised how much a sprucing up or a facelift can change a space," she said.
The company's non-invasive approach means less construction and disruption, making it ideal for those who want to update their homes or businesses without moving out.
For the project, Amelia and her logistics lead, Amber Ranger, worked together on the concept and pulled the job together. Amelia's team includes two other creative designers, Melinda Lamming and Taylor Graham, and a social media manager, Kiersten Mio, who handles the company's online presence.
"We have a team of creatives, logistics experts, and social media managers, all working together to make our clients' spaces shine," Amelia said. "Our non-invasive facelifts are the perfect solution for businesses that want to improve their spaces without spending too much money or dealing with a construction zone."
The company's non-invasive approach to design has made them a go-to for businesses and homeowners alike. The team's ability to work together and create stunning transformations makes them a standout in the industry.
View projects that the Paint & Decor Concepts team has worked on, as well as many of the unique products they carry on Facebook here.