Amidst the back-to-school scramble, Canadian buyers and homeowners are casting an eye towards the upcoming Bank of Canada interest rate announcement on September 7th. Patient buyers on the sidelines are waiting for sellers to blink first and drop their prices, while homeowners who signed up to variable mortgage rates are wondering: "How much higher can my mortgage payment go?" Alex Leduc, CEO and Principal Broker at Perch, breaks down what it all means.
Variable mortgage rates continue to creep up
For September's mortgage rate outlook, the market is predicting that the Bank of Canada will increase the overnight lending rate by another 0.25% to 0.50%. As a result, look for variable mortgage rates to increase slightly, adding pressure to those with tight household budgets. Fixed mortgage rates should remain at similar levels for the most part, with monoline lenders (otherwise known as non-bank lenders) leading the way with lower mortgage rate offerings to entice consumers. We anticipate Ontario, British Columbia and Alberta real estate markets will have an uptick in sales activity, despite the reduced inventory. Gone are the days of bidding wars and offer nights that were seen earlier in 2022, as buyers may choose to take advantage of the lower competition to achieve their homeownership goals.
Expect more of the same from the Bank of Canada
There are three more Bank of Canada interest rate announcements scheduled for 2022:
Wednesday, September 7, 2022
Wednesday, October 26, 2022
Wednesday, December 7, 2022
We anticipate a further 25 to 50 total basis point increase to the Bank of Canada overnight rate in September, followed by no further movements into the end of the year, depending on results from inflation numbers and job reports in the coming months. Economists expect soaring food, energy, interest rates and the ongoing labor shortages in Canada to push the economy into a moderate and short-lived recession in 2023. From there, it's further predicted the Canadian economy should quickly recover in 2024 and beyond.
The best mortgage rates in Canada, right now:
The current best 5-year variable mortgage rates range from 3.55% to 4.10% and 5-year fixed mortgage rates range from 4.35% to 4.59%.
Despite elevated costs of living, inflation trends downward
Job vacancies reached a new high of 5.9% in June 2022, increasing by 3.2% from the previous month. Canadian employers have been struggling to fill 1M+ jobs for three consecutive months across all major sectors. Job vacancies have been on an upward swing since December 2020 after a short-lived period of stability in November 2020. Labour shortages drive wage growth, which puts upward pressure on inflation.

Bond yields have trended upwards as they bounced up from July levels, which saw the highs of June claw back to April levels. Since fixed rates generally didn't move lower during July's downward trend, we expect fixed rates will remain at similar levels.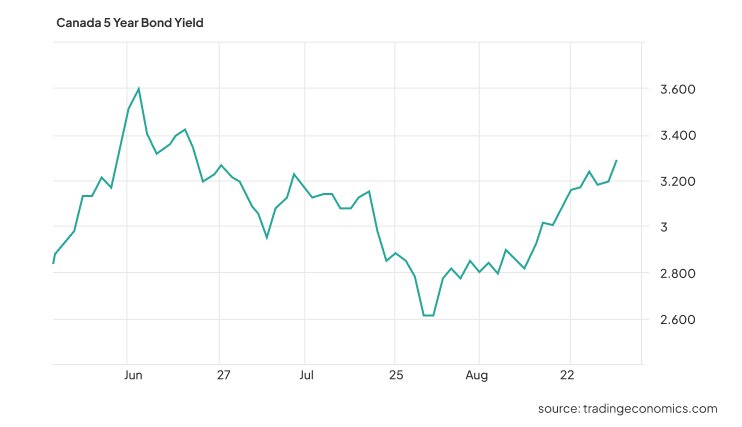 Consumer price index (CPI) for the month of July came in at 7.6%, lower than June's 8.1%. While the main driver for the lower CPI on a 12-month basis has been the gas pump, the core CPI shows no signs of improvement as all remaining core CPI indicators have increased or remained elevated. As prices of things like grain, wheat and other food-related drivers continue to fall back to normal levels, this should slow the pace of inflation.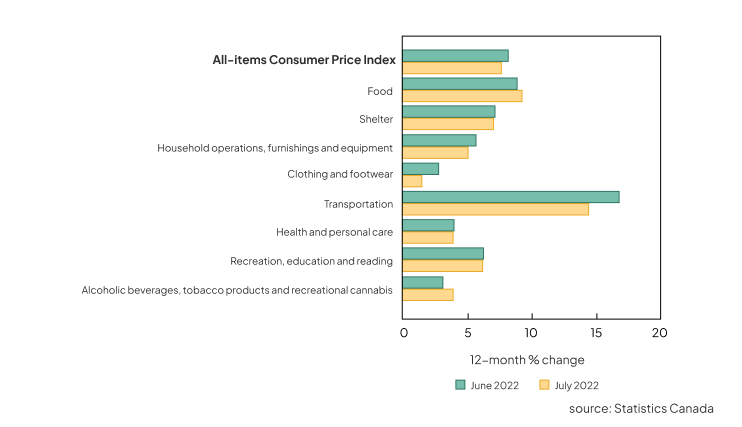 First-time buyers, now may be your time
For first-time home buyers, there are many opportunities that weren't available a few months ago due to an increase in average sale times and a more balanced market.
Homeowners, be cautious with your mortgage renewal
If you are coming up for mortgage renewal, continue to monitor mortgage rate forecasts. We recommend using Perch Pathfinder to view and compare offers from 30+ mortgage lenders. For homeowners who want to see the benefit of switching lenders and breaking their mortgage early, Perch automatically calculates the net benefit once you input your existing property and mortgage details.
Welcome to homeownership, simplified. Buy the right property sooner, find your mortgage and build wealth through real estate with Perch. Call 1-844-415-8263 or visit www.myperch.io to learn more, and apply today.