Are you contemplating re-siding your house? Debating whether to call someone for a quote or wondering if it's a job you might be able to take on yourself?
There could be several reasons you're ready for a project like this. First, new siding can drastically improve your home's curb appeal. It can also boost its saleability, giving it a fresh look and helping it stand out.
Of course, there are practical reasons for wanting to re-side a home. Siding protects your home against the elements. Neglecting siding that has seen better days can result in costly damage.
Mike at Heritage Home Hardware has some advice. Here he breaks down the different materials you can use—and the pros and cons of each.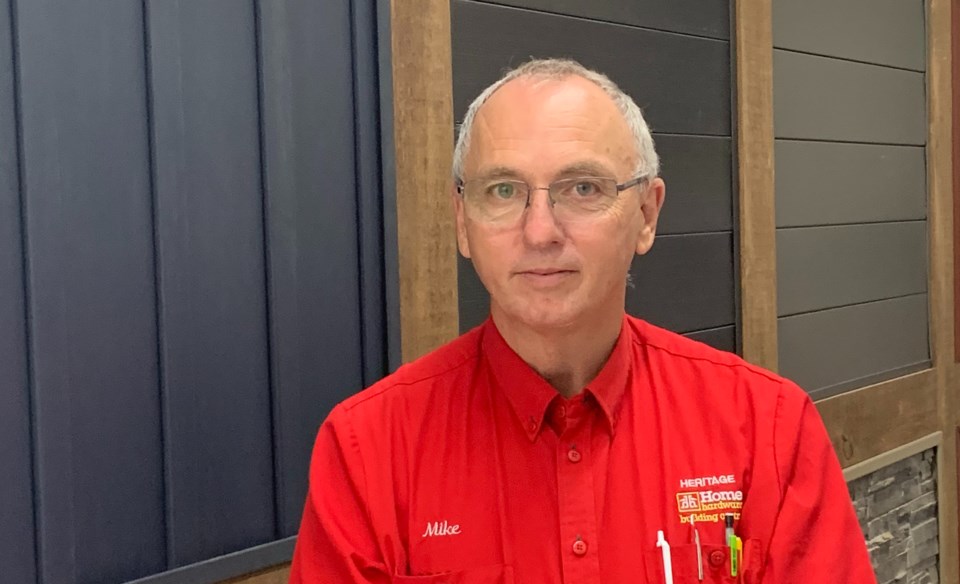 Vinyl
Vinyl is widely used and standard panels are 12-feet long. You can find longer lengths, which reduces the number of visible seams, but they do cost more. There are reasons vinyl is such a popular material: it's durable, inexpensive and low maintenance. It doesn't require any painting or caulking. It comes in a wide variety of colours and textures and can mimic the appearance of stone, wood and other natural materials.
It's also lightweight and easy to handle, making it the prime candidate for a straightforward DIY home improvement project. You can even apply this directly over existing siding, either vertically or horizontally, so it's a great choice for retrofit jobs. You don't have to worry about chipping, flaking or peeling; it is one solid colour throughout. Some even come with a lifetime warranty.
Wood
Exterior wood siding is a traditional material. It is loved for its warmth, rustic charm and beauty; it is also highly sustainable. You can find it in many species, grades, profiles and pre-finished colours and it is available in both panels and shingles. The look created is high-end and it can last for generations with the proper care. Wood siding now comes with a durable finish—and custom colour options— that is warranted for up to 20 years. It can be stained or painted according to the look you're after, and you can change the colour down the road. It is available as raw wood or factory finished.
It's important to know that wood siding might require more maintenance than other materials because it is prone to wear and tear. It's also more expensive. You will have to remove any existing siding before installing it, though skilled DIYers will find it fairly easy to cut and shape. You can install it vertically or horizontally.
You might want to consider engineered wood siding or wood composite siding. Both are more cost-effective, stronger and lighter, yet are very similar in appearance.
Fibre Cement
If you're looking for an extremely durable, weather-resistant material, look no further than fibre cement siding. It comes in panels, shingles and planks, and is highly resistant to weather, fire and insects. The material contains a mixture of cement, sand, cellulose fibres and other materials, and it can be formed to resemble shingles, stucco, masonry, clapboard, even natural wood. It also comes primed or primed and pre-painted and can be installed vertically or horizontally.
Fibre cement is heavy. It can crack or break if it is mishandled so it is definitely harder to install than other materials. It will also require periodical refinishing.
Aluminum
This is what many people think of when they think of siding. Aluminum siding has terrific insulating properties, which can help you save on heating and cooling costs. It is highly resistant to extreme weather, moisture, fire, rot, insects and damage; it also resists rust and corrosion. The material comes in a variety of textures and patterns, is recyclable and quite light. It's also easy to install, either vertically or horizontally, and low maintenance.
The one thing to know about aluminum siding? It can make a "pinging" sound in high wind or heat.
Steel
Steel siding is much tougher than aluminum, it's also low maintenance and offers strong resistance to the elements, extreme weather, moisture, fire, rot and insects. It offers maximum resistance to hail damage and denting, low thermal expansion, is environmentally friendly and 100% recyclable. It is available in a range of colours and profiles. Some products even offer a lifetime warranty.
Stone
Naturally produced stone siding gives your home an attractive appearance and it can last for decades without any fading. Available in a range of colours and textures, you can use it to create interesting mixed material finishes. It attaches well to vinyl siding and other exterior cladding products. You can use panelized stone siding to create the look of natural stone at a fraction of the cost; it requires no masonry and installs like siding. There's also no seasonal restriction on installation.
Stone Veneer
Create a natural look for your home's exterior using manufactured cement-based stone veneer siding. It's very durable and long-lasting, and offers the look and feel of natural stone, though installation is much quicker and easier; there is no need for mortar. It provides additional insulating properties, which can help to save on heating and cooling costs. Stone veneer is available in a limited range of styles and colours.
For more information, or to get Mike's personalized advice, visit Heritage Home Hardware or call 705-759-5101.