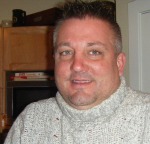 January 9, 1968 – January 17, 2013 Lorne Bradley Sprague of Okotoks, Alberta passed away on January 17, 2013 at the age of 45years. Lorne is survived by the love of his life, Jennifer, his children, Cristian Owen, and Sawyer Alana, his brother Ian, his BaBa Brenda and best friend and companion, Fester Fester. Lorne was a very proud Dad and there were no limitations of his love and pride for his children.
A Celebration for Lorne will be held at Snodgrass Funeral Chapel, 200 Woodgate Road, Okotoks on Friday, January 25, 2013 at 5:00 p.m. In lieu of flowers a trust fund will be set up for Lorne and Jennifer's children, Cristian and Sawyer Sprague at any Bank of Montreal.
"Do not stand at my grave and weep
I am not there. I do not sleep.
I am a thousand winds that blow.
I am the diamond glints on snow.
I am the sunlight on ripened grain.
I am the gentle autumn rain.
When you awaken in the morning's hush
I am the swift uplifting rush
Of quiet birds in circled flight.
I am the soft stars that shine at night.
Do not stand at my grave and cry;
I am not there. I did not die."
To email condolences please visit www.snodgrassfuneralhomes.com
Arrangements in care of SNODGRASS FUNERAL HOMES Ltd. Okotoks 403-938-3111.