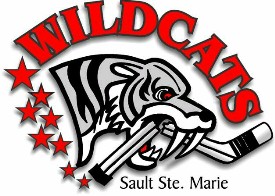 WILDCATS

NEWS RELEASE
**********************
The Sault's Tenaris Wildcats reeled off four consecutive shutout wins to advance to Sunday's Gold division quarter finals of the prestigious 64 team Midget AA Showcase tournament this past weekend in Stoney Creek.
However, St Mary's Academy of Winnipeg eliminated the Wildcats with a 5-0 shutout of their own.
The Sault had advanced to the quarter finals following a 2-0 elimination round victory over the Leaside Wildcats. Cody-lee Deevey earned the shutout while Darcee McCaig and Jenna Mitchell had the goals.
In Friday's opening round-robin action the Wildcats knocked off the London Devilettes 2-0 and Burlington Barracudas 1-0. Lydia Murray and McCaig had the goals and Taylor Smith the shutout over London while Murray added another and Deevey earned the shutout over Burlington.
The Sault closed out round-robin action Saturday morning with a 4-0 shutout over the Cambridge Roadrunners. Smith had the shutout while Logan Carrick, Brooke Smith, Murray and McCaig supplied the goals.
Other contributing members of the Tenaris squad include Casie King, Jamie-Lynn Anich, Miriam Lavey, Brittney Rosenfield, Lauren Rimmer, Vanessa Rota, Danielle Watling, Jana Headrick and Chelsea Gaudette.
Next action for the Tenaris Midgets will be the weekend of September 28-29th when they travel to Sudbury for the Wolf Howl Challenge Series.