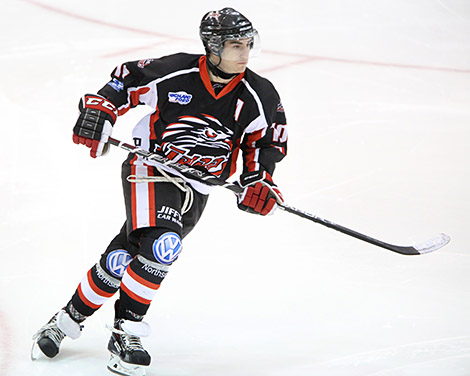 A pair of members are off to college for the 2014-15 hockey season, one heading to a Canadian school while the other is off to the United States.
Thunderbirds captain Gavin Burbach has committed to Robert Morris University-Illinois, based in Chicago, after a career year in the Northern Ontario Junior Hockey League.
Burbach scored 48 goals and 87 points in 56 games with the Thunderbirds during the 2013-14 season. In 71 career games with the Thunderbirds, Burbach had 55 goals and 99 points.
"Gavin is the perfect combination of ability and character," said RMU coach Tom Adrahtas. "We've had to replace a lot of talent from our graduating class and Gavin's commitment goes a long way towards keeping RMU hockey exactly where we want it to be."
Burbach's new school, not to be confused with Robert Morris University in Pennsylvania, plays in the Central States Collegiate Hockey League. The two schools are not affiliated with each other.
Another high-scoring forward from the Thunderbirds has committed to university next season as Darcy Haines will head to Laurentian University.
Haines, who posted 21 goals and 65 points in 33 games with the Thunderbirds after being acquired in a trade with the Pembroke Lumber Kings.
The Laurentian hockey roster features plenty of Sault ties as Brian Nanne and Matt Eddy are already members of the team. Former Soo Greyhound Jordan Carroll also plays at Laurentian while the roster features six players with ties to the NOJHL as well.
File photo by Kenneth Armstrong/SooToday.com