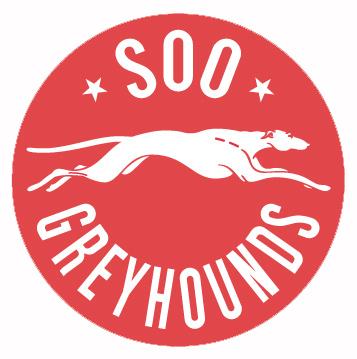 After back-to-back nights where the third period was an issue in a pair of losses, the Soo Greyhounds needed a change.
That change came thanks to a pair of early third-period goals, and a four-goal period overall, against the Saginaw Spirit in Saginaw at the Dow Events Center on Saturday night.
Goals by Jared McCann and Alex Gudbranson erased a 3-2 Saginaw lead and helped the Greyhounds to a 6-5 victory over the Spirit in the last game of a three-game road trip.
"We were excellent (in the third period)," said Greyhounds coach Sheldon Keefe. "After the second period, we were down a goal and the message in the dressing room was we were right where we're supposed to be. We've failed in these third period challenges on the trip to this point. We've been talking about how to respond and thrive in these situations as opposed to folding. I was thrilled as a coach that we had the opportunity to meet that head on again today and I was happy with the result."
The third period saw some added time from the end of the second period after Jared McCann broke a pane of glass behind the Saginaw net. The break gave the Greyhounds an opportunity to run McCann's line with Bryan Moore and Patrick Watling along with Tyler Gaudet's trio with Jean Dupuy and Sergey Tolchinsky. After the extra time, McCann scored 32 seconds into the third to open the Greyhounds four-goal outburst.
"It was a nice advantage for us that we had that extra minute (from the second period) to play because the glass was broken," said Keefe. "We played the Gaudet line and then we played the McCann line and then we got a break to switch ends so we went right back with the McCann line, on back-to-back shifts essentially. It worked out really well. We asked our guys to not look back from there and despite giving up another goal, our guys stuck with it."
The road trip saw the return of Dupuy to the lineup after missing over a month of action due to a concussion. Dupuy set up three goals in Saturday's win.
"It's huge for us," Keefe said of getting Dupuy back. "He's so versatile for us. He can play all three forward positions. We feel like he can play anywhere in our lineup. He can play on the penalty kill and he's a bigger, stronger, older body that helps us in so many ways. He got his name on the scoresheet on this trip and that's great but he's just a reliable player for us."
Tolchinsky also had three assists in Saturday's win while Gaudet scored a pair of goals. McCann had a goal and an assist while McCann and Alex Gudbranson had a goal and an assist each. Tyler Ganly and Trent Mallette also scored for the Greyhounds.
The Greyhounds fell behind 2-0 through one period before scoring a pair of goals early in the second period to tie the game. Eric Locke then gave the Spirit a 3-2 lead with Saginaw's second shorthanded marker of the game.
"One of the important things for why we were able to recover was that we didn't overreact to the fact that we made a couple of poor decisions which were 75 per cent poor decisions and poor execution and 25 per cent bad luck," said Keefe. "It caused us to give up two breakaways and be down 2-0. The start wasn't all that bad, power play aside. Five-on-five and the penalty kill was excellent actually. We didn't overreact, especially at a time where we're pretty fragile as a team. We didn't want to overreact to those two goals. We thought as a coaching staff it was important to keep things in perspective that there was a lot of game left."
"The message after the first period was just to not fold under the pressure and not pile on the negativity, rather start with one positive shift and another positive shift and find a way out of it," Keefe continued. "As it turned out, we scored on out first shift so we couldn't find a better positive than that and we kept at it."
The Greyhounds return to action on Feb. 14 when they open a four-game homestand against the Guelph Storm.
The Greyhounds signed American forward Charley Graaskamp. For further information on the signing, click here