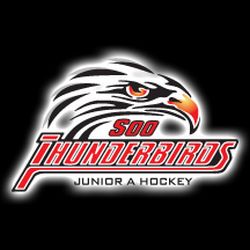 The Soo Thunderbirds wrapped up a three-game road trip on Sunday afternoon with a first-place showdown in North Bay against the Trappers in the Northern Ontario Junior Hockey League.
The Thunderbirds entered the game with a one-point lead over the Trappers and the lead remained that way following the game after the two teams skated to a 4-4 tie.
Gregory Sartoretto led the way for the Thunderbirds with a goal and two assists in the tie while Darcy Casola scored a pair of goals. Brandon Warmington also scored for the Thunderbirds. Matt Zalewski set up a pair of goals.
Thunderbirds goaltender Joel Horodziejczyk stopped 43 shots.
Tait Seguin, Samuel Blanchet, Connor Gilmartin and Brandon Janke scored for the Trappers while Stephen Langford had two assists. Greg Dodds stopped 37 shots for North Bay.
The Thunderbirds return to action on Dec. 21 when they host the Sudbury Nickel Barons at the Essar Centre.