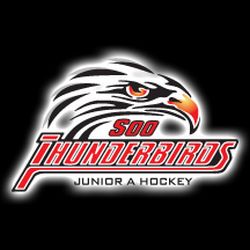 The Soo Thunderbirds rebounded from a loss in Kirkland Lake on Friday night to beat the Abitibi Eskimos on Saturday night in Northern Ontario Junior Hockey League action.
The Thunderbirds scored five times in the third period to beat the Eskimos 10-6.
Greg Sartoretto had two goals and two assists for the Thunderbirds while Matt Zalewski had three goals and an assist. Darcy Casola had four assists in the win.
Yan Kalashnikov (two goals, one assist), Anthony Miller (one goal, two assists), Fraser Turner (three assists), Dallas McLaughlin (two assists) and Gavin Burbach (two assists) also had multi-point nights for the Thunderbirds. Michael Caruso and Joey Miller had the other goals in the win.
Thunderbirds goaltender Joel Horodziejczyk stopped 35 shots.
Kevin Walker had a goal and two assists while Ryan Wildman scored a pair of goals for Abitibi. Corey Dubbledam, Aaron Kerr and Philip Sweeney also scored for the Eskimos.
The Thunderbirds wrap up their three-game trip on Sunday afternoon in a first-place showdown with the North Bay Trappers.