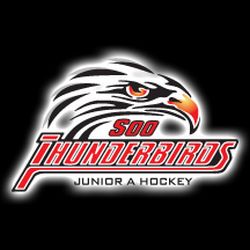 The Soo Thunderbirds extended their winning streak to 17 games on Saturday evening at the Northern Ontario Junior Hockey League showcase in Espanola.
The Thunderbirds picked up a 4-2 win over the Abitibi Eskimos on Saturday.
Gavin Burbach and Jaren Bellini had a goal and an assist each to lead the Thunderbirds offensively. Brett Jeffries and Eric Hilock also scored in the win.
Thunderbirds goaltender Brian Kment stopped 16 shots in the win.
Brennan Roy had both goals for Abitibi in the loss.
Eskimos goaltender Sylvain Morin stopped 26 shots in the loss.
Next up for the Thunderbirds is a home game against the Sudbury Nickel Barons on Jan. 17 at the Essar Centre.
In other action at the NOJHL showcase, the Espanola Rivermen opened the tournament on Friday night with a 4-2 win over the Elliot Lake Bobcats. Brennan Dubchak scored a pair of goals for Espanola in the win. Cray Roberge and Robert Smythe also scored in the win while Rivermen goaltender Marc Theriault stopped 28 shots. Brett Wagner had both goals for Elliot Lake. Bobcats goaltender Alex Bitsakis also stopped 28 shots in the game.
In Saturday's showcase opener, Everett Thompson had a goal and four assists to lead the Kirkland Lake Gold Miners to an 8-2 win over the Blind River Beavers. Jonathan Langford and Steven Babin had a goal and two assists each in the win while Austin Rust added a goal and an assist. Tanner Lafrance, Luke Meade and Dylan Rosen also scored in the win. Andrew Bertrand assisted on three goals for the Gold Miners. Vinny Bera had a goal and an assist for Blind River while Luke MacDonald also scored.
The final game of the showcase saw Sudbury pick up a 3-2 win over the North Bay Trappers. August Jarecki scored a pair of goals for Sudbury, including the game winner in the third period. Jacob Punkari had the other goal for Sudbury while Martin Jolicoeurs assisted on two goals in the win. Howard Yawit and Christian Sgroi scored for North Bay in the loss.