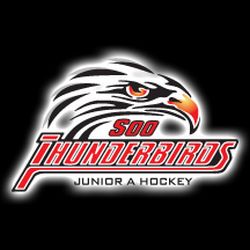 PRESS RELEASE
CANADIAN JUNIOR HOCKEY LEAGUE
********************
CJHL rankings see Thunderbirds move into Top 10 while Trappers earn Honourable Mention
The latest Canadian Junior Hockey League rankings are out and the Soo Thunderbirds have moved into the Top 10 coming in at No. 9 overall while the North Bay Trappers garnered Honourable Mention laurels.
Sitting in first place in the Northern Ontario Junior Hockey League standings the Thunderbirds remain one of the hottest clubs across the 128-team CJHL having won six in succession while going 10-0-1 in their past 11 outings.
North Bay, who sit one point behind the Soo in the NOJHL with a 12-2-2-2 overall record, have posted a 6-1-1-1 record in their last nine games.
Continuing as the No. 1 team in the CJHL once again this week are the Brooks Bandits of Alberta, who have yet to taste defeat this season currently sitting with a perfect 18-0 record.
At 15-0-1 the Truro Bearcats of the Maritime Hockey League remain second ranked nationally while the Saskatchewan Jr. Hockey League's Flin Flon Bombers of the come in at No. 3.
The CJHL Top 20 (As of Nov. 4)
Brooks Bandits (AJHL)
Truro Bearcats (MHL)
Flin Flon Bombers (SJHL)
Melville Millionaires (SJHL)
Trenton Golden Hawks (OJHL)
Penticton Vees (BCHL)
Minnesota Wilderness (SIJHL)
Yorkton Terriers (SJHL)
Soo Thunderbirds (NOJHL)
Winnipeg Blues (MJHL)
OCN Blizzard (MJHL)
Georgetown Raiders (OJHL)
Victoria Grizzlies (BCHL)
Yarmouth Jr. 'A' Mariners (MHL)
Whitecourt Wolverines (AJHL)
Newmarket Hurricanes (OJHL)
Smiths Falls Bears (CCHL)
Summerside Western Capitals (MHL)
Saint Jerome Pantheres (LHJAAAQ)
Chilliwack Chiefs (BCHL)
Honourable Mention: North Bay Trappers (NOJHL), Grande Prairie Storm (AJHL), Swan Valley Stampeders (MJHL), Buffalo Jr. Sabres (OJHL) and the Carleton Place Canadians (CCHL).
The weekly rankings are based upon a variety of factors, including the league in which the teams play, winning percentage, win-loss record, total points accumulated, goals-for versus goals-against ratio, etc.
The CJHL is an amalgamation of 10 Jr. A hockey leagues from across Canada.
More information on the CJHL can be found by clicking on the league website www.cjhlhockey.com.
********************