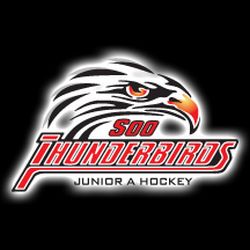 Another player who had requested a trade has been dealt by the Soo Thunderbirds.
The Thunderbirds have traded forward Joey Miller to the Portage Terruers of the Manitoba Junior League. In return, the Thunderbirds receive cash considerations from the Terriers.
Miller had 20 goals and 45 points in 56 regular season games with the Thunderbirds in 2013-14. In 15 playoff games, Miller had three goals and three assists.
In 98 career games with the Thunderbirds, Miller had 26 goals and 51 assists.
The Terriers finished fourth overall in the MJHL standings in 2013-14 with a 36-16-8 record in the 11-team league.
Miller was one of two players who recently requested a trade from the team. Defenceman David Radke was the other.
The Thunderbirds have had a number of trade requests this summer. Along with Miller and Radke, reigning Northern Ontario Junior Hockey League most valuable player Joel Horodziejczyk earlier this summer. Horodziejczyk was dealt to the Central Canadian League's Pembroke Lumber Kings in exchange for forwards Jake Staples and Ryan Erickson.