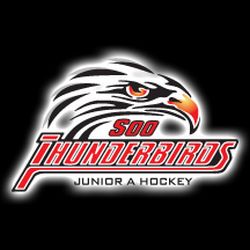 With limited roster spots open, the Soo Thunderbirds tryout camp wrapped up on Saturday afternoon at the John Rhodes Community Centre.
The team came out of camp with two more players added to their 2014-15 roster, a forward and a defenceman.
The team has inked 17-year-old defenceman Caleb Boman and 16-year-old forward Travis Campbell.
Boman, a Sault Ste. Marie native, spent the 2013-14 season with the Great North Midget League's Sudbury Nickel Capital Wolves where he had seven goals and 27 points. Boman spent the previous season with the minor midget Soo Thunder.
Campbell, who turns 17 on Sept. 2, was a 10th round pick of the Soo Greyhounds in the 2013 Ontario Hockey League Priority Selection. After a season with the Windsor Jr. Spitfires minor midget team, Campbell opened the 2013-14 season in the Great Lakes Jr. C League, playing 12 games with the Wheatley Sharks and four more with the Essex 73's before finishing the season with the Windsor Spitfires major midgets.
The team had five new players signed entering the camp, including goaltender Mario Culina, defencemen Alex Morin and Matthew Murray along with forwards Matthew Caruso and Matt Pinder.
Moring and Murray signed with the team after their spring camp in May while Pinder joins the team after a season with the Cambridge Winter Hawks.
The team entered the two-day camp with 13 players with previous junior experience, 12 of which played with the Thunderbirds last winter.
Two players eligible to return were among the players listed to participate in the weekend camp but didn't. Forward Grant Syrette and defenceman Jeremy Solomon didn't skate despite being among the listed attendees for the camp. The team hasn't released why the two didn't skate.
A third veteran player with eligibility wasn't in camp in forward Riley Bordin. Thunderbirds General Manager Kevin Cain said Bordin has "retired" from hockey.
The team is now preparing for a pair of exhibition games against the North American League's Soo Eagles at Pullar Stadium in Sault, MI. The games are scheduled for Sept. 5 and 6.
In other tryout news, Sault Ste. Marie's two AAA Midget teams open up on Monday.
Following are the schedules for the tryouts for both teams.
AAA Major Midget Thunderbirds
Aug. 18 at 4 p.m.
Aug. 19 at 5 p.m.
Aug. 20 at 5 p.m.
Minor Midget Greyhounds
Aug. 18 Registration at 11 a.m. and on-ice at 1 p.m.
Aug. 19 at 1 p.m. And 8:30 p.m.
Aug. 20 at 1 p.m.
Aug. 21 at 6 p.m.