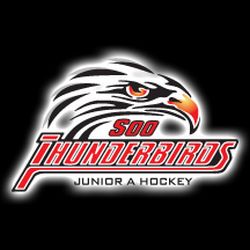 It took a third period goal but the Soo Thunderbirds picked up a slim victory over the Kirkland Lake Gold Miners in Kirkland Lake on Friday night.
A goal by Tyler Jones at 12:20 of the third period was the game-winner at the Thunderbirds blanked the Gold Miners 1-0.
The Thunderbirds have now won 13-straight games.
Tyler Jones had the lone goal for the Thunderbirds in the win while goaltender Joel Horodziejczyk stopped 27 shots in the shutout.
Jeremy Pominville made 21 saves for Kirkland Lake in the loss.
With the win, the Thunderbirds improve to 31-4-5-0-2 record and lead the NOJHL with 64 points. Kirkland Lakes sits in second with a 26-5-0-2 record and 54 points.
The Thunderbirds three game road trip continues on Saturday when they face the Abitibi Eskimos before wrapping up the trip Sunday evening in North Bay against the Trappers.
Editor's Note: On Dec. 21, SooToday.com posted a story on the Thunderbirds final two games prior to the Christmas break. In the story, it was written that Dan Radke had scored an overtime goal for the Thunderbirds when, in fact, it was his brother Dave who plays for the Thunderbirds and scored the goal. Dan currently plays for Lake Superior State in the WCHA. SooToday.com regrets the error. The story has been corrected to reflect the accurate information.