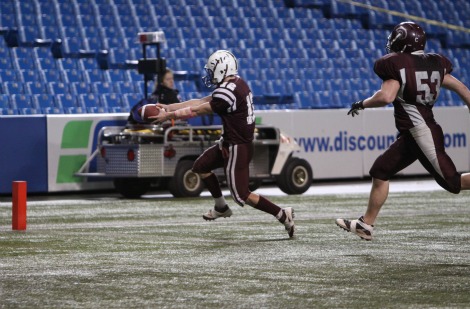 For the third time, the St. Mary's Knights are Northern Bowl champions.
St. Mary's beat Sir Winston Churchill of Thunder Bay 47-28 this morning at Rogers Centre in Toronto to win the title, which also marks to fifth straight win for a Sault Ste. Marie school at the event.
St. Mary's jumped out to a 20-0 lead through one quarter and held a 33-6 edge by halftime before cruising to the win.
Dylan Hebert, as he has done for much of the season, led St. Mary's with 177 yards rushing and three touchdowns in the win. Hebert was in on the first two majors for St. Mary's, running in from one-yard out on a pair of first-quarter touchdowns.
Brian Fronzi caught a pair of touchdown passes from quarterback Justin Elwgren, one for 24 yards and the other for 25. Fronzi finished the day with four catches for 92 yards in the win.
Elwgren also ran the ball in for a seven-yard touchdown run in the win. Ray Duplin had the other touchdown for St. Mary's after he returned an interception 70 yards for the major early in the third quarter.
Devyn Chenier caught three passes for 117 yards and a touchdown for Sir Winston Churchill while Justin Fui caught two touchdown passes, all from quarterback Jared White.
Defensively, Thomas Pratt had six tackles for St. Mary's.
Sault schools have won six Northern Bowl games since the inclusion of the game in the OFSAA bowl series, including five straight:
2011: Superior Heights
2010: Superior Heights
2009: Sir James Dunn
2008: St. Mary's
2006: St. Mary's
St. Mary's also competed in the 2007 Northern Bowl, losing to Westgate of Thunder Bay..
Prior to competing for the Northern Bowl, Sault schools competed in the Central Bowl, winning the game four straight years from 2000 to 2003. St. Mary's won three Central Bowl titles (2000, 2002, 2003) while Sir James Dunn won the Central Bowl crown in 2002.
Photos courtesy of former resident and St. Mary's College Knights Alumni, Photographer Frank Sirianni Jr.