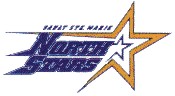 The Soo North Stars continued their unbeaten run in the Great North Midget League in a pair of road games over the weekend.
The North Stars improved their GNML record to 24-0-0-0-1 with wins over North Bay on Saturday and Nickel City on Sunday.
On Saturday, Jaron Rowe and Anthony Stefano had a pair of goals each as the North Stars beat North Bay 6-4. Stefano also had a pair of assists in the win. Nick Trecroce and Jaren Bellini had the other goals for the North Stars.
Tyler Peters, Jake Staples, Nathaniel McLeod and Aaron Dart scored for North Bay in the loss.
On Sunday afternoon, Devin Shell had the lone goal as the North Stars blanked Nickel City 1-0. Jacob Kment picked up the shutout.
The North Stars return to action on Jan. 8 when they travel to Sudbury to again take on Nickel City. Next home action for the North Stars is on Jan. 19 and 20 when they host the Sudbury Nickel Capital Wolves in a weekend set.