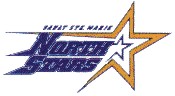 The Soo North Stars inched closer to a Great North Midget League championship over the weekend thanks to a weekend split with the second-place Sudbury Nickel Capital Wolves.
The North Stars dropped a 3-2 decision on Saturday night before handing the Nickel Capitals a loss on Sunday afternoon by an identical 3-2 score.
On Saturday night, Ryan Vendramin and Matt Pinder scored for the North Stars in what was their first loss in regulation time this season.
Daniel Eddy had a goal and an assist for Sudbury in a win that saw the visitors score three unanswered goals. Former Brenden Pheasant and Josh Moore also scored for Sudbury in Saturday's win.
On Sunday afternoon, Anthony Stefano set up a pair of goals, including a shorthanded marker by Pinder in the North Stars win. Vendramin and Nathan Hebert also scored for the North Stars.
Jackson Gunner and Niibin Nashkawa scored for Sudbury in Sunday's loss.
"We looked like a team that's been off for three weeks," said North Stars coach Mike Hall. "We only played one game in three weeks. Especially (Saturday) night, we jumped out to a 2-0 lead but our compete level wasn't where it needed to be. Some of it was from the layoff. (Sunday) our compete level was a lot better."
Said Wolves coach Peter Michelutti Jr.: "We felt like we had a tremendous weekend. Going over both games, I thought we controlled most of the play in the two games. Our goal coming into the weekend was to get a split and secure second spot."
Next up for the North Stars is a road trip to North Bay next weekend for a pair of games. Prior to the trip, the North Stars wil be hosting a 'Rabbit Party' on Jan. 24th at the Comfort Suites and Conference Centre. Dinner begins at 6 p.m. For more information on tickets click here.