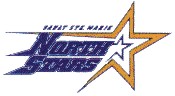 The Soo North Stars opened up a commanding 2-0 series lead over the Kirkland Lake Legion 87's with a pair of home-ice victories over the weekend in Great North Midget League playoff action.
The North Stars opened up the series with a 19-0 win on Saturday night and won game two by a 14-1 score on Sunday afternoon.
On Saturday night Ryan Vendramin scored three times and assisted on five goals to pace the North Stars offensively. Anthony Stefano scored four times and assisted on two others while Devin Shell added a goal and five assists in the win. Jaren Bellini (three goals, two assists) and Cody Caron (two goals, three assists) chipped in with five-point nights for the North Stars. Nick Trecroce (two goals), Matt Mitchell (two goals), Jaron Rowe (one goal) and Matt Pinder (one goal) also scored in the win. All 15 skaters that dressed for the North Stars had at least two points in the win.
On Sunday afternoon, Bellini and Vendramin had two goals and three assists each for the North Stars in the win. Stefano added a goal and four assists. Pinder, and Caron had two goals and an assist each while Trecroce, Shell, Mitchell and Jack MacLeod had a goal and two assists each. Brandon Grandinetti also scored for the North Stars in the win.
The best-of-five series now shifts to Kirkland Lake for game three on Feb. 17.