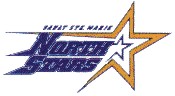 The Soo North Stars opened up a 2-0 lead in the Great North Midget League championship thanks to a pair of wins over the Kapuskasing Flyers over the weekend.
In game one, Ryan Vendramin and Anthony Stefano had a goal and three assists each as the North Stars picked up a 7-4 win. Cody Caron added two goals and an assist while Devin Shell chipped in with a pair of goals. Jaron Rowe also scored for the North Stars in game one.
Jamey Lauzon scored twice for Kapuskasing in game one. Zack Dorval and Brenden Locke assisted on a pair of goals each in the loss. Leo Lightning and Olivier Chabot also scored.
In game two, Vendramin scored a pair of goals and added an assist as the North Stars picked up a 5-1 win. Matt Pinder added a pair of goals in the win, including a shorthanded marker in the second period. Jack MacLeod also scored in the win.
Lightning had the lone goal in the second game for Kapuskasing.
Game three in the series is in Kapuskasing on Mar. 23.