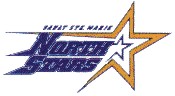 The Soo North Stars have one home game remaining on their schedule in the Great North Midget League, the only issue is the northern Ontario weather is getting in the way.
For the second straight night, winter weather forced the postponement of the North Stars game against the Nickel City Sons.
The game was originally scheduled for earlier in the season but weather forced it to be rescheduled to Jan. 29. Freezing rain and fog in the north meant the game was going to be postponed 24 hours to tonight.
The only issue became the current winter weather pushing through northern Ontario that forced the closing of highways in the Sudbury area and left snow falling over much of Sudbury and Sault Ste. Marie areas and led to the postponement of the game for a third time.
No date has been announced for rescheduling.
The North Stars will be hitting the road this weekend as they travel to New Liskeard on Friday to open a three-game road trip against the Cubs. On Saturday night the North Stars travel to Kirkland Lake before wrapping up their road schedule in Timmins on Sunday afternoon.