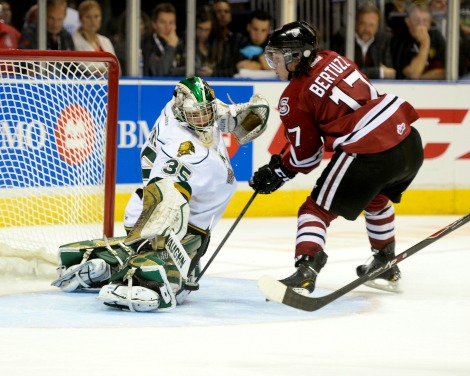 LONDON, ONT. - Sooite Jake Patterson was forced into duty for the second time in two games on Wednesday night.
For the London Knights, it was in relief of starter Anthony Stolarz that Patterson saw action in a 7-2 loss to the Ontario League champion Guelph Storm.
Patterson entered the game after Guelph took a 3-1 lead early in the second period of a fluke goal by Guelph's Tyler Bertuzzi.
"We got behind a couple of goals but the kids battled to get back into the game," said Knights coach Dale Hunter. "You have to give credit to Guelph. They've got a great team."
Stolarz made 14 saves on 17 shots in just over a period of work. Patterson stopped 17 of 21 shots the rest of the way for London.
Guelph goaltender Justin Nichols, a former Soo Greyhound, stopped 45 shots in the win.
"I just go out there and try to give the team a chance to win," said Nichols.
Storm coach Scott Walker spoke highly of the diminutive goaltender.
"Our team really likes playing in front of him," said Walker. "He's a competitive person and anytime you've got a competitive person in net, it's always fun to be there. He's got emotion."
Despite cutting the Guelph lead to one, three minutes after the Bertuzzi goal, the Knights couldn't recover from the early deficit.
Scott Kosmachuk scored three goals for the Storm in the win.
Bertuzzi had a pair of goals while Jason Dickinson and Marc Stevens also scored.
Brett Welychka and Josh Anderson scored for London in the loss.
"It was a hard game," said Walker. "I thought it was one of the most entertaining ones so far. It was really hard and on the edge of dirtiness but that's what hockey's about. It was a tough game at both ends of the ice, in the corners and in front of the net. It was a quality effort against a quality opponent."
Guelph lost the services of high scoring forward Zack Mitchell in the first period after the veteran forward was given a major penalty and game misconduct for kneeing after a hit on London's Dakota Mermis.
The Storm now prepare for Sunday's final where they will face the winner of the semi-final game on Friday night between the Quebec League's Val-d'Or Foreurs and Western League's Edmonton Oil Kings.
Game Notes: Prior to puck drop, Sid Daley, a former Sault Ste. Marie resident dropped the puck for the ceremonial opening faceoff.
A retired OPP officer, the 101-year-old Daley was part of the Canadian navy after enlisting at age 29. Daley served as a gunner for four years.
With the loss, the Knights become the first host team to end the tournament winless since the Quebec League's Quebec Remparts went winless in 2003.
****
STANDINGS
Guelph Storm (OHL): 3-0
Val-d'Or Foreurs (QMJHL): 2-1
Edmonton Oil Kings (WHL): 1-2
London Knights (Host): 0-3
FULL SCHEDULE
Round-Robin Game 1 – May 16: Val-d'Or 1, London 0
Round-Robin Game 2 – May 17: Guelph 5, Edmonton 2
Round-Robin Game 3 – May 18: Edmonton 5, London 2
Round-Robin Game 4 – May 19: Guelph 6, Val-d'Or 3
Round-Robin Game 5 – May 20: Val-d'Or 4, Edmonton 3 (2OT)
Round-Robin Game 6 – May 21: Guelph 7, London 2
Semi-Final – May 23: Val-d'Or vs. Edmonton
Championship – May 25: Guelph vs. Semi-final winner
Photo: Action from Game 6 of the MasterCard Memorial Cup between the Guelph Storm and London Knights on Wednesday May 21, 2014. The Storm defeated the Knights 7-2. Photo by Aaron Bell/CHL Images