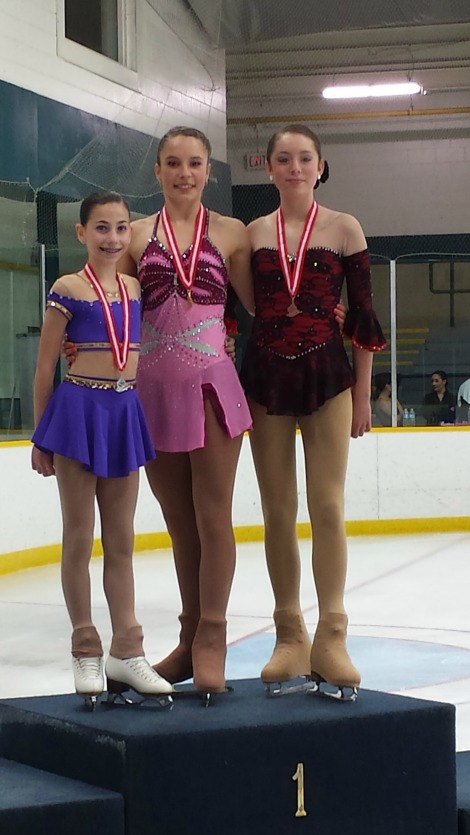 NEWS RELEASE
LAKE SUPERIOR FIGURE SKATING CLUB
************************
LSFSC Figure Skater Abiguel Jones Qualifies for Skate Canada Challenge in Montreal , Skaters bring 10 medals back to the Sault
The 2014 Skate Canada Northern Ontario Sectionals Event took place at Garson Arena, Sudbury on Nov. 7-9, 2014. The event identifies the top figure skaters in each province (Ontario having four Sections) for advancement to the next round of qualifying events.
The club had an exceptional competition with one of the highlights being from Abiguel Jones.
Jones competed against 12 other skaters in the Pre Novice Ladies event. After placing fifth in the short, Abiguel fought back hard finishing first in the long program with an impressive 40.68 points which would ultimately qualify her to represent Northern Ontario at the Skate Canada Challenge Event in Montreal Dec. 4-7.
This has been the clubs strongest result in many years. Director of skating Kerry Bain was happy with the results of all the LSFSC skaters, citing a strong coaching team and the dedication of the skaters and families as a contributing factor to the overall success. An impressive 10 medals were earned bu the 14 competitive skaters representing the Lake Superior Figure Skating Club.
Abiguel Jones – Bronze Pre-Novice Ladies
Danielle McPhee – 7 Pre-Novice Ladies
Breanne Derochie – Double Gold Juvenile under-14 and Pre-Juvenile Pairs
Jordan Derochie – Double Gold Men's Juvenile under-14 and Pre-Juvenile Pairs
Emilie Vezina – Bronze Juvenile under-11
Lilia Pelletier – Silver Pre-Juvenile under-11
Haley Martin – 10th Pre-Juvenile under-14
Laura Baek – 8 Pre-Juvenile under-14
Simone Thibodeau – 11 Pre-Juvenile under-14
Hanna Martin – 5 Pre-Juvenile under-11
Yvonne Barnes – Silver Star 5 under 13
Olivia Nero – Bronze Star 5 under 13
Shayla Prgomet – 5 Silber Star 5 under-13
Miya Thomas – Bronze Star 5 over 13
In February LSFSC Pre-Juvenile and Juvenile skaters will compete again at the Festival of Stars competition in Sault Ste. Marie. The top four skaters out of each event will qualify for the Skate Ontario Starskate Championships in Brampton, Ont. Mar. 14-16, 2015.
************************