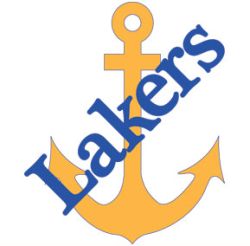 SAULT STE. MARIE, MICH. – The Lake Superior State Lakers hockey team ended a four-game losing skid over the weekend with a pair of wins over the Alaska Nanooks.
The Lakers opened the weekend with a 5-1 win on Friday night before capping off the weekend with a 4-2 win on Saturday.
On Friday night the Lakers jumped out to a 2-0 lead before the game was 90 seconds old. Alaska did cut into the lead shortly after but the Nanooks couldn't take advantage of some late first-period chances in the loss.
Domenic Monardo scored a pair of goals for the Lakers in Friday's win. Ben Power added two assists. Buddy Robinson and Zach Sternberg had a goal and an assist each for the Lakers in Friday's win. Kellan Lain also scored. Goaltender Kevin Murdock continued his solid play against Alaska this season with 46 saves.
Tyler Morley scored the lone Alaska goal, shorthanded, in the loss. John Keeney stopped 22 shots for Alaska before being pulled in the third period. Steve Thompson stopped four og five shots the rest of the way.
On Saturday night, goaltender Kevin Kapalka stopped 33 shots as the Lakers completed the sweep.
Matt Bruneteau and Stephen Perfetto had a goal and an assist each for the Lakers in Saturday's win. Monardo and Bryce Schmitt also scored in the win.
Cody Kunyk and Nolan Huysmans scored for Alaska in Saturday's loss. Thompson stopped 24 shots.
With the sweep the Lakers record improves to 10-13-1 in the CCHA (15-16-1 overall) as they head into their final home weekend of the season. The Lakers host Miami (Ohio) this weekend before wrapping up the regular season at Northern Michigan the following weekend.
Miami enters the weekend as the CCHA's top team with a 14-6-4 record.
A pair of members of the Miami roster suited up for Team USA at the 2013 World Junior Hockey Championships in Ufa, Russia at Christmas, winning gold in the process. Forwards Sean Kuraly and Riley Barber were among the 22 players who represented the United States.
The Miami roster features five players drafted by NHL clubs, including Kuraly (San Jose) and Barber (Washington). Also drafted from the Miami roster are forwards Curtis McKenzie (Dallas), Jimmy Mullin (Tampa Bay) and Blake Coleman (New Jersey).
Puck drop this weekend at Taffy Abel Arena is 7:35 on Friday and 7:05 for Saturday's contest.