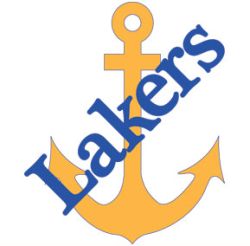 SAULT STE. MARIE, MI – The Lake Superior State Lakers hockey team's time as members of the Central Collegiate Hockey Association has come to an end.
The Lakers lost their first round CCHA playoff series 2-1 against the Bowling Green Falcons at Taffy Abel Arena, ending the Lakers season.
The Lakers opened the series on Friday night with a 2-0 win thanks to a 31-save performance from goaltender Kevin Kapalka.
Bryce Schmitt and Domenic Monardo completed the scoring for the Lakers in the win.
"We checked really well," said Lakers coach Jim Roque. "We gave up a three-on-two in the first and after that we didn't give up any odd-man rushes. (Bowling Green) hit a crossbar late with their goalie pulled but we had some good chances the other way.
Said Falcons coach Chris Bergeron following game one: "(The effort) was pretty disappointing. This is the way we've played a little too often in the last five games. And quite honestly, it's the way we practiced this week. It's disappointing and it proves to us that we've got a long way to go as a program. Lake Superior played like they were fighting for something and we didn't."
In game two, the Falcons bounced back with a 6-3 win to even the series and force a game three. Ryan Carpenter had two goals and an assist in the win while Camden Wojtala added a goal and an assist. Adam Berkle, Ryan Peltoma and Bryce Williamson also scored for the Falcons.
Eric Drapluk scored twice for the Lakers in the loss. Chris Ciotti also scored.
"Our effort was great," said Bergeron on Saturday night. "We challenged our leadership and our older guys and got after them a little bit. We played (Friday night) like there was 20 more games left in the season. We were way more urgent tonight and our desperation was better. All the things we have to do well to give ourselves a chance, we were much better at tonight."
Said Roque: "(Bowling Green) played better than us. They were on the puck a lot harder and got a couple of good bounced that they needed to around the net for rebounds. They were a little more desperate obviously with their season being on the line."
The Falcons continued their offensive onslaught with a 7-0 win in the deciding game. Dan DeSalvo scored a pair of goals and added an assist for Bowling Green in the win while Ryan Carpenter, Ralfs Freibergs and Adam Berkle added a goal and an assist each. Bryce Williamson and Ben Murphy added two assists each for the Falcons. Marc Rodriguez also scored in the win.
"It was a great effort and I'm really proud of our group," said Bergeron on Sunday. "We challenged them hard after the game on Friday and, not trying to take anything away from Lake Superior, but we felt like we didn't really answer the bell. Our guys played tonight like we've been in this game before and we have. Our older guys that were the guys we challenged, really stood out."
Said Roque: "I can't even really explain it," said Roque. "It just seemed like everything was going well for them and we could do nothing right. I'm stunned. It wasn't meant to be I guess. I have no idea how to even say that to those guys. They were prepared and they seemed ready to go in the game."
Bowling Green advances to face Notre Dame on the road in the second round. The other three CCHA playoff series will see (1) Miami face (11) Michigan State; (3) Western Michigan face (7) Michigan; and (4) Ohio State face (5) Ferris State.