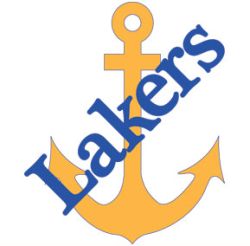 SAULT STE. MARIE, MI. – It's been a continual trend for the Lake Superior State Lakers this season.
The Lakers picked up a 3-2 win over Ohio State on Saturday night to pick up a weekend split on home-ice against the Buckeyes. The Buckeyes scored a 4-1 win over the Lakers on Friday night to open the series. The split means the Lakers have split all seven weekend series to date.
"I was happy with our game all weekend," said Lakers coach Jim Roque. "Our guys competed hard all weekend and we needed that. I'm happy with our effort. We have to play like that all the time. If we play that way all the time we'll have a chance to win."
The Lakers jumped out to a 2-0 lead in the first period thanks to goals by Nick McParland and Domenic Monardo, chasing OSU starter Collin Olson from the goal after giving up two goals on 10 shots in just under nine minutes of action.
The Buckeyes cut into the Lakers lead in the second period thanks to a goal by Darik Angeli but Kevin Czuczman scored early in the third period to restore the Lakers two-goal cushion.
Also in the third period, the Buckeyes lost the services of captain Chris Crane after the Jr. forward received a major penalty for checking to the head after a hit on Monardo near the Ohio State bench midway through the period.
Ryan Dzingel cut the lead to 3-2 at 18:34 with Ohio State on the power play and Brady Hjelle on the bench for the extra attacker but the Buckeyes couldn't find the tying goal.
Hjelle, who stopped 31 shots in Friday's win, stopped 18 shots in relief on Saturday night.
Kevin Kapalka got his first start for the Lakers since injuring his shoulder on Oct. 26 against Michigan State, missing eight games in the process. Kapalka stopped 23 shots in the win.
Next up for the Lakers (7-7-0, 4-4-0 CCHA) is a road trip that takes the team to Notre Dame next weekend, beginning on Friday night. The series marks the first of back-to-back weekends on the road as the Lakers travel to Miami (Ohio) following the Notre Dame series.
Ohio State (5-4-3, 4-2-2-1 CCHA) is also on the road next weekend as they travel to East Lansing to take on the Michigan State Spartans, which leads into a home-and-home series with Robert Morris the following weekend.
Saturday's loss ended a three-game winning streak for the Buckeyes while the Lakers split a weekend series for the seventh time this season.