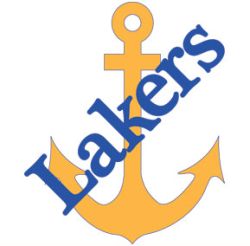 SAULT STE. MARIE, MI. – The Lake Superior State Lakers hockey team will head into the second half of the college hockey season on a good night thanks to a weekend sweep of the Northern Michigan Wildcats.
With the sweep, the Lakers head into the Christmas break having won three straight and hold a conference record of 10-10-0-0 (7-7-0-0 conference record) and split eight of 10 weekend series in the first half of the season.
"We probably deserved a sweep earlier in the year but as long as we've grown from the mistakes we made early in the year in those games," said Lakers coach Jim Roque. "We battled through the first half of the year and I'm glad to be in fifth place at Christmas. We had some guys leave in the summer and things happened but our guys stuck with it."
On Friday night Buddy Robinson, Stephen Perfetto and Kellan Lain had a goal and an assist each in a 3-0 win over the Wildcats. Kevin Kapalka stopped 29 shots for the shutout.
Northern Michigan goaltender Jared Coreau stopped 18 shots in just under two period of action. Michael Doan, a Sault, Ont. native, came in and stopped 18 shots in just over 26 minutes of action.
"He has grown and continued to improve, without a doubt," Northern Michigan coach Walt Kyle said of Doan. "It's a tough spot for Michael because Jared is going to get the games. Jared is a legit topline goaltender in this league and we're not supporting him the way we're capable of. Having said that, Michael has gone in every night in a difficult situation and has been outstanding."
On Saturday night, Nick McParland, Matt Bruneteau and Chris Ciotti scored as the Lakers completed the weekend sweep with a 3-1 win. Kevin Murdoch stopped 22 shots in the win.
Jake Baker scored the lone goal on Saturday for Northern Michigan while Coreau stopped 34 shots.
The Lakers return to action with a pair of non-conference games following the Christmas break. The Lakers host Union on Jan. 4 and 5 at Taffy Abel Arena.