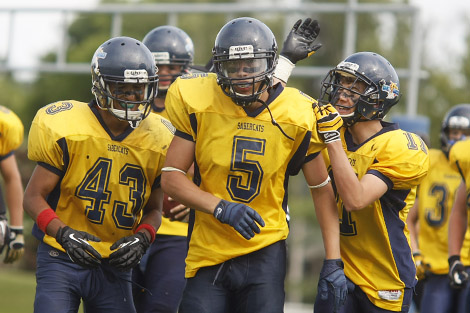 It was a historic day for the Sault Sabercats in Ontario Varsity Football League action on Saturday at Rocky DiPietro Field on Saturday.
The junior varsity Sabercats picked up the first victory in team history as they defeated the Halton Cowboys 35-30 Saturday afternoon.
Quarterback Ryan Yost completed 14 of 20 passes for 355 yards and five touchdowns in the win.
Dalton Toppan finished the day catching four passes for 135 yards in the win, including touchdown catches of 70 and 16 yards.
Jarrett Litalien added 116 yards receiving on just three catches which included a 96-yard touchdown. Nick Roussain ran the ball 17 times for 85 yards for the Sabercats.
Isaac Belsito caught a 45-yard touchdown pass from Yost while Lucas Miller also had a touchdown catch in the win.
D'Shon Dingwell ran the ball in for a pair of touchdowns for Halton while Alex Brophy, Joshua Roberts, and Elrick Harty also scored touchdowns in the loss. Halton attempted two-point conversions following each of their majors in the game but all five were unsuccessful.
Defensively for the Sabercats, Michael Reid had five solo tackles, three assisted tackles, two sacks and three fumble recoveries.
The Sabercats junior varsity record sits at 1-5 while Halton falls to 0-7.
In the varsity game, the Sabercats opened up a 23-0 first half lead and finished the day with a 30-8 win over Halton.
Sabercats quarterback Nathan Elgie completed 13 of 22 passes for 135 yards while also running for 79 yards on five carries for the Sabercats.
Jeff Auger (two yards) and Brad Nickle (12 yards) caught touchdown passes from Elgie in the win while Justin Senecal ran for a pair of touchdowns. Senecal ran the ball in from one yard out in the first quarter and from 36 yards out in the second quarter.
The Sabercats also picked up two points on a first quarter safety.
Auger caught four passes in the win for 52 yards while Senecal had 110 yard rushing on 13 carries. Austin Maccarone also saw limited action at quarterback for the Sabercats, completing two passes for 45 yards.
Defensively, Ray Duplin had three solo tackles and seven assisted tackles in the win while Josh Thibodeau had five tackles and an assisted tackle.
Daniel Bateman had the lone major for Halton in the loss, scoring on a four-yard run. The Cowboys scored a two-point convert to round out the scoring.
With the win, the Sabercats improve to 4-2 while Halton drops to 1-6.
The Sabercats are on the road for week eight as they travel to Brampton to take on the Bulldogs in games at the junior varsity and varsity levels.
Sault Sabercats junior varsity players celebrate immediately after a touchdown July 5, 2014 during a game against the Halton Cowboys at Rocky DiPietro Field. SooToday.com/Kenneth Armstrong