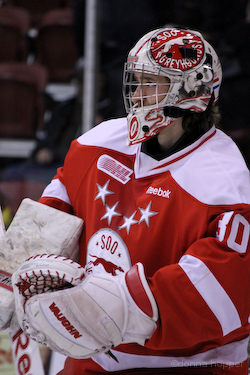 A strong goaltending performance and a clutch goal by a rookie played a key role for the Soo Greyhounds on Wednesday night.
The Greyhounds picked up a 2-1 shootout win over the Sudbury Wolves in Sudbury on Wednesday in Ontario Hockey League action.
Goaltender Matt Murray made 45 saves for the Greyhounds and stopped a pair of Wolves shooters in the shootout while Charley Graaskamp and Jared McCann had shootout goals to give the Greyhounds the win.
Greyhounds coach Sheldon Keefe spoke highly of Murray in the win.
"He was very calm and by-and-large, made a lot of the saves look very easy," said Keefe. "He was great positionally and battle when he needed to. He was so calm and in control that it seemed like an easy night for him the way he controlled the game."
"Perhaps we got a little too calm and a little too reliant on him but we were playing a desperate team tonight," Keefe added. "They were playing with a lot of urgency to get their fortunes turned around on home ice. They came at us hard in the third period and we made things a little hard on ourselves with some of the lack of execution that we had but Matt was there for us."
Graaskamp capped off the win for the Greyhounds, sealing the shootout by scoring the second of two Hounds goals in the skills competition.
"It wasn't necessarily a gut-feeling or anything like that," Keefe said of selecting Graaskamp to shoot. "He earned that opportunity to take that shot through practice sessions where he's shown some real high-end ability to score in breakaway and shootout situations. He had an excellent game tonight too and probably deserved to play more than he did. It was tough to get him extra minutes without control of the matchups and the game being so close but he had an excellent game."
Keefe credited Graaskamp for the adjustment he has made since joining the team earlier this month.
"We've been thrilled, in particular with his game today," Keefe said of the rookie forward. "He showed some real progress in the Erie game (on Saturday). He showed some real progress there and took another giant step today with his poise with the puck and his play. He's got some real elite ability with the puck and he showed it today. He's been getting better every day in practice and every game he's played. There's been a lot of progress. There's still a ways to go but we're really pleased with his attitude, his work ethic and his commitment."
Patrick Watling had the lone goal in regulation time for the Greyhounds.
"Overall, it was an incomplete game," said Greyhounds coach Sheldon Keefe. "We were really good in stretches and really bad in other stretches. We had some really great scoring chances, especially in the first period that we weren't able to capitalize on. We wanted to have a great start and create a little additional adversity for Sudbury. We failed to get that done and Sudbury got a little bit of confidence there. They were a desperate team and they played well. We stuck with it pretty good and found a way to get the one point and then made sure that we got the second one.
Brody Silk, who recently returned to the Wolves lineup after missing much of the season due to injury, scored his first goal of the season for the Wolves.
With the win, the Greyhounds improve to 39-16-1-4 and remain in second in the OHL's Western Conference. They lead the West Division by 10 points over the Windsor Spitfires with both teams having played 60 games. The Wolves move into a tie atop the Central Division with the North Bay Battalion with 70 points each. The Wolves sit with a 30-20-3-7 record through 60 games.
The Greyhounds now return home for a pair of games this weekend at the Essar Centre, beginning Saturday night when they host the Guelph Storm in a 7:07 p.m. start. They wrap up the quick two-game homestand on Sunday afternoon when they host the Kitchener Rangers in a 2 p.m. start. Following the homestand, the team will play their final four road games before a pair of games at home to end the regular season.
File photo by Kenneth Armstrong for SooToday.com.
For more news and note from around the OHL, click here.