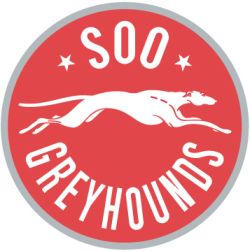 SUDBURY, ONT. – The Soo Greyhounds opened up their brief two-game road trip on Friday night in Sudbury with a 5-4 win over the Wolves.
Ryan Sproul's second goal since returning to the Greyhounds lineup from injury earlier this week at 14:54 of the third period was the winner after Sudbury battled back from a 4-1 deficit to tie the game.
Danny Desrochers opened the scoring midway through the first period for Sudbury but the Greyhounds proceeded to score four straight to open up the lead. Dylan Staples got the Greyhounds on the board late in the first period while Jared McCann scored a pair of second period goals to increase the lead to 3-1. Nick Halagian also scored in the second period for the Greyhounds.
Frank Corrado got the ball rolling again for the Wolves with a power play goal at 18:19 of the second period. Joshua Leivo then cut the lead to one 32 seconds after Corrado's goal. Nick Baptiste tied the game in the third period, setting the stage for Sproul's game winner.
Greyhounds goaltender Matt Murray stopped 51 shots in the win while Taylor Dupuis stopped 24 shots for Sudbury.
The Greyhounds wrap up their two-game trip in Barrie on Saturday night against the Colts. Game time is 7:30 p.m.
****
OTHER SCORES: Niagara 4, Belleville 1; Kingston 7, Plymouth 6; Windsor 2, Saginaw 1; Guelph 3, Erie 2; Kitchener 5, Sarnia 0; London 2; Peterborough 0; Mississauga 5, Brampton 2; Oshawa 4, Ottawa 2