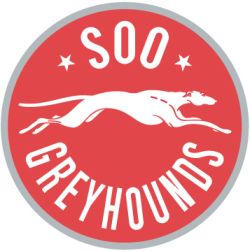 The Soo Greyhounds opened their final road trip of the season on a sour note on Thursday night.
The Greyhounds dropped a 7-4 decision to the Windsor Spitfires on Thursday night in Windsor.
The Greyhounds opened up a 2-0 lead after Jared McCann and Brandon Alderson scored goals 40 seconds apart before the game was five minutes old. Despite the early lead, the Spitfires would score seven of the games next nine goals to pick up the win.
Kerby Rychel scored a pair of goals and assisted on another for the Spitfires in the win. Brady Vail added a goal and two assists for Windsor. Alexander Khokhlachev had three assists in the win.Remy Giftopoulos added a goal and an assist while Josh Ho-Sang and Nick Ebert also scored for Windsor.
Spitfires goaltender Jaroslav Pavelka stopped 38 shots in the win.
Jared McCann scored a pair of goals to pace the Greyhounds offensively. Andrew Fritsch chipped in with three assists in the loss. Ryan Sproul and Brandon Alderson also scored for the Greyhounds.
The Greyhounds return to action on Friday night when they take on the Guelph Storm in Guelph.