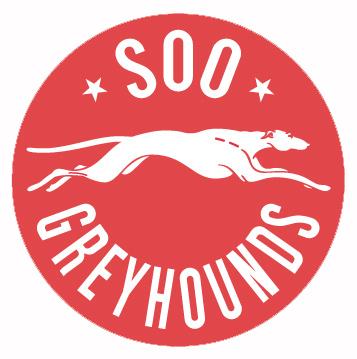 The next time they suit up, the game will be a little more meaningful and there will be fewer players on the roster.
The Soo Greyhounds annual Luke Williams Memorial Red & White game was Friday night and the team is down to 29 from the 38 that started training camp on Tuesday.
The team announced on Friday night that nine players have been released or re-assigned by the club.
Those players include 2014 draft picks Tyler Wall (goaltender), Owen Guy (defenceman), Owen Burnell (forward), Connor Timmins (defenceman), Kyle Betts (forward) and Ryan DaSilva (sefenceman) as well as 2013 draft pick Brent House (forward) and free agents Anthony Sorrentino (forward) and Geoff Kitt (forward). Guy did not participate in Friday night's game.
For newly-hired General Manager Kyle Raftis, the Greyhounds 2014 training camp has been a learning experience.
"It's been interesting because it's been a good opportunity to get a good read on a lot of guys," said Raftis of his first training camp with the team. "You?re never sure who is putting in the work over the summer. We went over the testing results from the development camp and it's interesting to see who takes that step."
The 28-year-old Raftis has been pleased with how camp has gone to this point.
"Some of the young guys have played really well and they're going to make these decisions harder," Raftis said. "A lot of people are focused on the returning players but sometimes you get some young guys in here that are hungry and want to fight for a position. So far (the young players) have shown a lot."
As for the game itself, Team White picked up an 11-10 win over Team Red. A scoring summary of the game follows.
****
GAME NOTES
Scoring
1st Period
White: Gabe Guertler from Jack Kopacka and Tyler Ganly at 1:20
Red: Kyle Jenkins unassisted at 3:10
Red: Tyler Hore from Anthony Salinitri at 4:37
Red: Blake Speers from Michael Bunting and David Miller at 5:20
White: Bryan Moore from David Eccles at 6:16
Red: Kyle Betts from Jean Dupuy at 7:42
Red: Boris Katchouk from Blake Speers at 13:45
Red: Anthony Salinitri unassisted at 14:37
Shots: 26-13 Team Red
2nd Period
Red: Tyler Hore from Blake Speers and David Miller at 10:32
White: Jared McCann from Keigan Goetz at 12:24
Red: David Miller from Anthony Salinitri at 14:27
White: Bryan Moore from Colton White at 14:43
Shots: 16-9 Team White
3rd Period
White: Owen Burnell from Geoff Kitt and Anthony Sorrentino at 0:15
White: Gabe Guertler from Bryan Moore and Jared McCann at 0:44
White: Mac Hollowell from Hayden Verbeek and Jared McCann at 4:07
White: Sergey Tolchinsky from Jack Kopacka at 9:22
White: Owen Burnell from Keigan Goetz at 11:02
White: Gabe Guertler from Sergey Tolchinsky and Bryan Moore at 13:05
Red: Zach Senyshyn from Charley Graaskamp and Anthony Salinitri at 14:33
White: Brent House from Colton White and Gabe Guertler at 17:24
Red: Jean Dupuy from Blake Speers at 19:58
Shots 19-14 White
Goaltenders
Team White: Joseph Raaymakers ? 27 saves on 35 shots; Tyler Wall: 12 saves on 14 shots
Team Red: Brandon Halverson ? 25 saves on 29 shots; Brian Kment: 12 saves on 19 shots