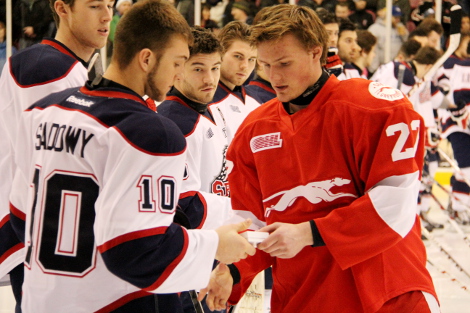 It was an emotional night at the Essar Centre as the Saginaw Spirit were in town for their first Ontario Hockey League game following the tragic death of Spirit forward Terry Trafford earlier in the week.
The Greyhounds honoured Trafford with a video tribute prior to the game. The Spirit came onto the ice to a standing ovation from the Greyhounds faithful. The Greyhounds then gave the Spirit players and staff a token of support.
"I'm very proud of the players for what they've been through," said Saginaw coach Greg Gilbert, following the Spirit's 6-5 loss to the Greyhounds.
"What they've been through is something nobody should ever go through," Gilbert also said. "It's unfortunate that things like this happen but they battled through it and competed hard tonight and I'm very proud of them."
Said Greyhounds coach Sheldon Keefe: "It was very quiet in the building and it was a really powerful ceremony emotionally. It made an impact on the crowd and on both teams."
Jorgen Karterud had two goals and an assist for the Greyhounds in the win.
"He's a big guy who has a lot of skill," Keefe said of the Norwegian forward. "When he has the puck more he's a talented kid. He's not a defensive specialist. If he doesn't have the puck or his line doesn't have the puck, it makes it tough on him. He has to go out there and earn it."
Bryan Moore also chipped in with two goals and an assist while Sergey Tolchinsky also had a three-point night with a goal and two assists. Charley Graaskamp also scored in the win. Greyhounds goaltender Matt Murray stopped 28 shots.
"We had a lot of guys who had the puck on their stick a lot more than they're used to," said Keefe. "There's an adjustment period for that."
"With the exception of the guys that we're trying to get going, it's about their growth and development but really what it's about its trying to get through the game without guys getting hurt," said Keefe.
Justin Kea scored twice for the Spirit in the loss while Luke Cairns, Mitchell Stephens and Jacob Ringette also scored. Goaltender Nikita Serebryakov stopped 28 shots for the Spirit.
"There's a lot of emotion going through our guys obviously and at times we were a little over-aggressive and over-emotional but that's expected," said Gilbert. "These are young men who are trying to learn how to control those things and go through things like this. I've never been through something like this in my life before, as have they. Our guys handled it pretty well."
Getting back into the routine of the season was important for the Spirit.
"It's important that they get back to normalcy and get back to playing," Gilbert said.
"There's a grieving process and there's all stages for the grieving process but the sooner you can get back to normalcy and back into the routine you had prior to the tragic event, the quicker the guys will be able to recover," said Gilbert. "This game and practice yesterday was good therapy for them."
Gilbert was pleased overall despite the loss.
"We competed hard," said Gilbert. "We've gotten down in games and come back and battled hard to make it close and even won some. Credit goes to our guys for battling through all the adversity and finding a way. It was right there for us at the end but we gave up that weak goal and unfortunately we're walking out of here with nothing."
With the win, the Greyhounds improve to 43-17-1-5 while the Spirit drop to 32-29-4-1 with the loss as they battle the Owen Sound Attack for playoff positioning in the OHL's Western Conference.
The Greyhounds are back in action on Sunday afternoon when they host the London Knights in a 2 p.m. start.
Photos by SooToday.com's Michael Purvis
To see video highlights, click here