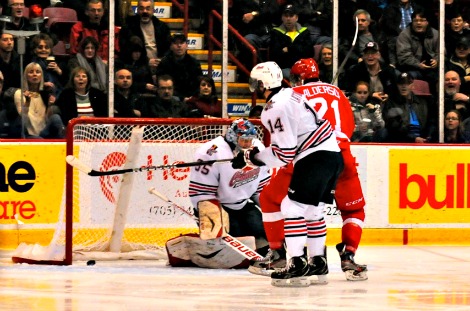 The Soo Greyhounds rebounded on Saturday night after a disappointing effort in a shootout loss to the Windsor Spitfires on Friday night.
Saturday night saw six players have multi-point games for the Greyhounds as they scored a 6-4 win over the Oshawa Generals in Ontario Hockey League action. The win pulls the Greyhounds to within one point of the Sarnia Sting, who sit sixth in the OHL's Western Conference standings. The Sting lost to Plymouth on Friday night.
Brandon Alderson led the way for the Greyhounds with three goals in the win. It also marked his second hattrick in four games.
"It goes to show what confidence will do for you," said Greyhounds coach Sheldon Keefe of Alderson's recent stretch. "He's obviously feeling really good. He's shooting the puck, which is a big part and they're going in. When you're a confident guy that shoots the puck the way he does, you're going to find ways to score goals."
Michael Schumacher had two goals and an assist in the win. Nick Cousins (three assists), Sergey Tolchinsky (two assists), Ryan Sproul (two assists) and Jared McCann (two assists) also had multi-point nights for the Greyhounds.
"That's probably the most important thing for success in this league is your depth and everybody contributing," Keefe said of the offensive spread. "Having the ability to have multiple lines that you can put out against a very dangerous forward group like that is nice for us to have. If you look at all of the successful teams in this league, they all have that."
Andrew Fritsch also scored for the Greyhounds while goaltender Matt Murray stopped 23 shots.
Tyler Biggs scored a pair of goals for the Generals in the loss. Bradley Latour and Boone Jenner also scored. Goaltender Daniel Altshuller stopped 20 shots in two periods of action. Kenny Appleby played the third period and stopped nine shots.
"We got caught into their game and that's not the way we play and we paid for it," said Generals coach DJ Smith. "We're not a team that scores off the rush. We like to chip it in and cycle, grind you down. We had guys trying to make plays and turning pucks over instead of playing a north-south game. We almost pulled it out at the end cheating all over the place but that's not the way we play."
Following the win, Keefe discussed his pleasure with the start the Greyhounds got off to.
"Our start was a lot better and we scored early which gave us some confidence," said Keefe. "The guys played harder tonight and with a lot more purpose and we needed to. (Oshawa) is a good hockey club. They play fast and they play hard and have a lot of talent. In terms of how they play, that's as hard as any team we've played. The first period was probably the fastest hockey that I've been a part of in this league."
The Greyhounds return to action on Feb. 1st when they travel to Plymouth to face the Whalers.
For full results from around the OHL, click here.
Photo courtesy Jim Egan