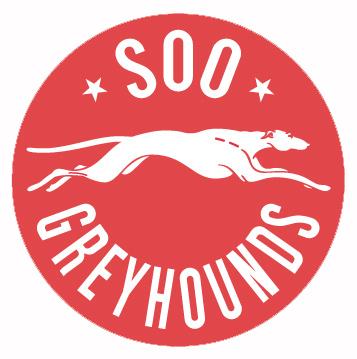 The Soo Greyhounds wrapped up their development camp for another year and the 2014 version had a little different feel than other years.
With 14 players from the 2014 OHL Priority Selection in attendance along with 16 other players, the Greyhounds wrapped up the two-day event with a little different intention than what may have been the case in seasons past.
"It's the first year where we're not looking to try to make a guy make our team, we're projecting them a year out," said Greyhounds General Manager Kyle Dubas. "That's why we went down to the one game. It's to get the players more ingrained into the types of skills we want to see from them and the types of skills that are really going to help them be a member of the team down the road rather than having them battle it out for two or three games over the course of two days to see who rises to the occasion."
Dubas added that the development camp can take on different looks, depending on how the team is set for the following season.
"We're trying to adapt to what's happening with our team," Dubas also said. "There may come a day when we go back to that other format with more games, trying to find guys that are playing well in direct competition with one another. It's a chance for us to get guys moved into our system and educated on how we do things."
Greyhounds coach Sheldon Keefe echoed the sentiments of Dubas.
"That's really important this time of year when you have players coming into your organization for the first time," said Keefe. "We want them to leave taking more from the camp than we will. They get the opportunity to become familiar with the staff, the organization, what we have to offer and how we conduct things here. That should make them more comfortable going on in the future, be it at our main training camp with guys competing for spots this year or down the line."
Both Dubas and Keefe were pleased with the weekend as a whole, which featured practices on day one along with a pair of practices and a scrimmage on Saturday.
"This (was) my fourth, in terms of the overall skill level that we've seen in the past two days here is probably the best that we've seen," said Dubas. "That's from guys we expected it from like Zach Senyshyn and Hayden Verbeek who signed and played last year. Even players from this past draft and some free agents. Guys like Jack Kopacka, who we picked in the eighth round and Keeghan Howdeshell, who we picked in the tenth, and Mac Hollowell, who we picked in the 12th round, have all shown flashes of really solid play.
Keefe said the skill level of the camp was impressive.
"Overall, I was very pleased," Keefe said of the camp. "One thing that's been clear to me, especially going on the ice and running a practice, is that the skill level of the camp was very good. I think it's much higher than it was even a year ago. That's a credit to our scouting staff for identifying players that have that ability."
"We had a really good practice (Saturday) and moved the puck around really well, which you usually don't see in these types of camps," said Keefe. "I was really pleased with what we were able to get done in an hour practice with them and that's a reflection of their ability and smarts."
In Saturday's scrimmage, Jack Kopacka scored with 22 seconds left in the third period to give Team Red a 3-2 victory over Team White.
Kyle Betts and Keeghan Howdeshell also scored for Team Red. Goaltender Joseph Raaymakers got the start and stopped 11 of 12 shots while Tyler Wall stopped 18 of 19 shots in the second half of the scrimmage.
Connor Timmins and Boris Katchouk scored for Team White. Adrian Clark started, stopping 12 of 13 shots before making way for Mario Culina, who stopped 18 of 20 shots the rest of the way.