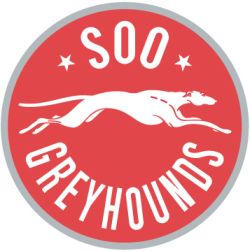 The Soo Greyhounds picked up an important two points on Wednesday night in Sudbury as they wrapped up a string of three road games with a 5-4 overtime victory over the Sudbury Wolves in Ontario Hockey League action.
Sergey Tolchinsky scored at 1:21 of overtime to give the Greyhounds the victory in a game that saw them have to battle back from a 3-1 deficit after one period.
Tolchinsky, Nick Cousins, Andrew Fritsch and Colin Miller had a goal and an assist each in the win for the Greyhounds. Darnell Nurse had the other goal in the win. Ryan Sproul set up a pair of goals for the Greyhounds.
Greyhounds netminder Justin Nichols stopped 35 shots.
Rookie forward Matt Schmalz had a goal and an assist for the Wolves in the loss. Michael Kantor and Danny Desrochers had two assists each for Sudbury. Dominik Kahun, Mathew Campagna and Charlie Dodero also scored for the Wolves.
Goaltender Franky Palazzese stopped 28 shots for the Wolves.
The win takes on added importance as the Saginaw Spirit picked up a shootout win over Erie on Wednesday. The Spirit entered action on Wednesday night trailing the Greyhounds by four points in the OHL's Western Conference standings.
The win improves the Greyhounds record to 25-19-2-1 while the Wolves fall to 21-17-4-5.
The Greyhounds return to action on Friday night when they host the Windsor Spitfires in a 7:07 p.m. start at the Essar Centre.
****
OTHER SCORES
In Erie, Gregg Sutch scored the shootout winner as the Saginaw Spirit beat the Erie Otters 4-3. Terry Trafford and Jason Shaw had two assists each for Saginaw in regulation time. Stephen Harper scored a pair of goals for Erie in the loss.
In Mississauga, Spencer Martin stopped 36 shots as the Mississauga Steelheads beat the Sarnia Sting 4-2. Riley Brace scored a pair of goals for the Steelheads. Nikolay Goldobin and Davis Brown scored for Sarnia in the loss.
In Owen Sound, Jordan Binnington stopped all 25 shots he faced as the Owen Sound Attack blanked the Barrie Colts 3-0. Cameron Brace and Steven Janes had a goal and an assist each for the Attack in the win. Mathias Niederberger stopped 25 shots for the Colts.
In Belleville, Brendan Gaunce scored a pair of goals as the Belleville Bulls beat the Oshawa Generals 4-1. Joseph Cramarossa had a goal and an assist for the Bulls while Niki Petti set up two goals. Bulls goaltender Malcolm Subban stopped 32 shots. Daniel Altshuller stopped 31 shots for the Generals. Cole Cassels had the lone Oshawa goal.