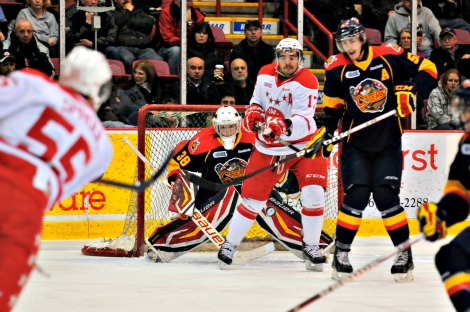 The Soo Greyhounds spoiled a strong performance from Erie Otters goaltender Oscar Dansk as the Greyhounds continued their strong play of late on Friday night.
The Greyhounds beat the Erie Otters 6-4 at the Essar Centre Friday night despite a 48 save performance from Dansk between the pipes.
With the performance, Dansk continued his hold on top spot among Ontario Hockey League goaltenders in saves with 832, 33 ahead of Guelph Storm goaltender Garret Sparks.
"Their goaltender (Dansk) kept them in there," said Greyhounds coach Mike Stapleton. "We threw everything at him and he stood in there. He made some big saves. We went to the hard areas and (Dansk) was there shot-for-shot."
Said new Otters coach Kris Knoblauch: "That's a lot of shots and he's had a lot of work this season. There have been a lot of games where he's had 40 or more shots. It's been a lot of work for him. He gave us a great opportunity to win tonight. There were some plays that looked like they were going to be goals and he was able to make the save."
The Greyhounds received goals from six different players in the win. Colin Miller, Brandon Alderson, Darnell Nurse and Nick Cousins had a goal and an assist each in the win while Nick Halagian and Jared McCann also scored.
Goaltender Justin Nichols stopped 26 shots in the win for the Greyhounds (13-13-2-0).
15-year-old Otters forward Connor McDavid, granted exceptional player status last spring to be eligible for the 2012 OHL Priority Selection, scored for the Otters in the loss while Kyle Pettit, Jake Evans and Jimmy McDowell also scored. Adam Pelech and Travis Wood had two assists each in the win.
For Knoblauch, it was his first game behind the Otters bench after taking over for Robbie Ftorek on Thursday. Ftorek was relieved of his duties Thursday morning and the Otters hired Knoblauch, who previously coached the Western Hockey League's Kootenay Ice and led them to a WHL championship in 2011.
Knoblauch said it will take time for him to put his own stamp on the team.
"It takes a while to implement your systems," Knoblauch said. "(Our approach) was pretty much what they've been doing. There were things that I addressed a little bit that I wanted to see from them but it's not really my team until I can get some practices under my belt. We had our pre-game skate today and certainly you're not going to do a lot of teaching through that."
On the Greyhounds side, Stapleton was pleased with the line of David Broll, Brandon Alderson and Landon Schiller, who spent most of the night on the ice against Erie's top line of McDavid, J.P. Labardo and Connor Brown.
"Give credit to Broll's line, they went out there and stopped (Erie's) top offensive line," Stapleton said. "They generate a lot of offense for Erie and Broll, Alderson and Schiller did a great job."
The Greyhounds return to action on Saturday night when the Owen Sound Attack make their lone appearance at the Essar Centre in a 7:07 p.m. start.
OTHER SCORES: Oshawa 4, Kingston 2; Kitchener 3, Windsor 2 (SO); Plymouth 4, Ottawa 1; Sarnia 7, Saginaw 4; Guelph 3, Brampton 2; London 5, Barrie 3; Niagara 6, Mississauga 4; Owen Sound 6, Sudbury 4
Photo courtesy Jim Egan
***********************
Game Recap Proudly Sponsored by WINMAR:
Call WINMAR today at 705 946 8765 or click here for WINMAR Sault Ste. Marie!