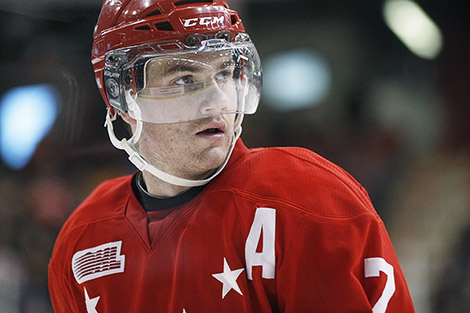 It's likely the toughest part of the Ontario Hockey League season.
With no chance of changing their playoff position, the Soo Greyhounds and London Knights met at the Essar Centre, with the Greyhounds skating to a 7-5 victory in a game that saw numerous veterans out of the lineup for both clubs.
The Greyhounds opened up a 5-2 lead through two periods and held off a late charge by the Knights in the game.
"It was another difficult game, as I would expect tomorrow will be," said Greyhounds coach Sheldon Keefe. "Both teams are ready for playoff hockey to start. These are tough games to get through mentally. Our guys were pretty good and pretty efficient with the puck. We had zero commitment defensively today. Without the puck, we weren't very interested in our defensive structure."
The Greyhounds played the game without veterans Tyler Ganly, Jared McCann and Sergey Tolchinsky and rookie blueliner Kyle Jenkins. The team also lost the services of overage forward Tyler Gaudet due to injury in the opening period. Gaudet, who won't play Monday in Saginaw, told reporters following the game that the injury wasn't serious and he wouldn't be out long-term.
The game was a chance for the Knights to sit out a number of veterans ahead of the OHL playoffs and their run to hosting the 2014 Memorial Cup. High-scoring forward Max Domi and Bo Horvat as well as veteran defencemen Nikita Zadorov and Alex Basso were among the eight veterans who didn't dress for the Knights Sunday.
"It was a bit of a shinny game out there today but now we'll head home and get our rest," said Knights Assistant Coach Jeff Paul. Paul spoke with local media in lieu of Head Coach Dale Hunter. Hunter did not speak with media due to what team staff reported as the coach losing his voice during the course of the game due to recent illness. "We've already started preparing (for the playoffs). The next couple of months are going to be pretty hectic for us."
Matt Rupert had two goals and an assist for the Knights while Mitchell Marner added a goal and two helpers in the loss. Gemel Smith chipped in with a goal and an assist while Michael McCarron also scored. Soo native Jake Patterson stopped 27 shots.
"All things considered, we were pretty happy," Paul said of the Knights play. "The game could have gone either way and that's all you can expect with the lineup we had."
Andrew Fritsch led the way for the Greyhounds with a pair of goals in the win while Bryan Moore, Dylan Corson and Blake Speers had a goal and an assist each. Overage forward Patrick Watling set up three goals while Charley Graaskamp set up two. Tyler Hore and Michael Bunting also scored in the win.
Rookie goaltender Brandon Halverson made 33 saves for the Greyhounds.
"It was another good game for him," Keefe said of Halverson. "As much as they rested a significant part of their team, there's still a lot of talent out there, especially on forward. That makes it tough when you've got that type of talent out there and when you've got our team, which was pretty lax defensively. It's really tough on goalies. He battled hard."
Keefe confirmed on Sunday that seven players will not make the trip to Saginaw on Monday to face the Spirit and that the team plans to dress 12 forwards and five defencemen in the game, including defenceman Medric Mercier and goaltender Brian Kment, who will be up with the team from the NOJHL's Soo Thunderbirds.
Not in the lineup Monday will be forwards McCann, Tolchinsky and Gaudet; defencemen Jekins, Darnell Nurse and Alex Gudbranson along with goaltender Matt Murray.
The game result will determine the Greyhounds opponent for the opening round of the playoffs, which begin later in the week. A Greyhounds win in regulation would see Saginaw finish seventh and face the Greyhounds. A win by Saginaw or Saginaw picking up a point in an overtime or shootout loss would give them sixth in the OHL's Western Conference and see the Greyhounds face Owen Sound in the opening round.
Puck drop on Monday is 7:11 p.m.
****
GREYHOUNDS HAND OUT TEAM AWARDS
In a banquet on Saturday night, the Greyhounds announced their regular season awards.
Rookie of the Year – Blake Speers
Most Gentlemanly Player – Sergey Tolchinsky
Best Defenceman – Darnell Nurse
Scholastic Player of the Year – Blake Speers
Three Star Award – Matt Murray
Unsung Hero – Alex Gudbranson
Humanitarian Award – Patrick Watling
Top Scorer – Sergey Tolchinsky
Most Improved Player – Tyler Gaudet
MVP – Matt Murray
Player's Player – Tyler Gaudet
File photo by SooToday.com's Kenneth Armstrong
To read SooToday.com's live blog from the game, click here.
For video highlights, click here