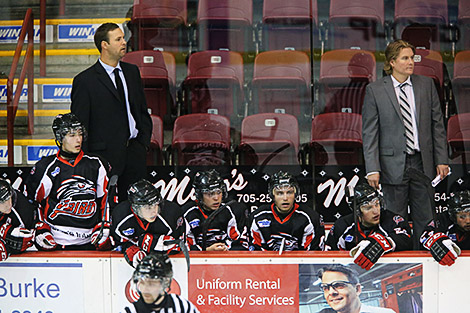 Falling behind early cost the Soo Thunderbirds an opportunity on Sunday night at the Essar Centre.
Trailing 2-0 through one period, the Thunderbirds dropped a 5-3 decision to the Kirkland Lake Gold Miners Sunday in game two of the Northern Ontario Junior Hockey League final at the Essar Centre. The win evens the series at one following a 2-1 double overtime victory by the Thunderbirds on Saturday night.
Kirkland Lake opened up a 2-0 lead in the first period beginning with an early goal by Everett Thompson. Thompson opened the scoring just 1:42 into the game to set the stage for the Gold Miners. Austin Rust also scored in the opening period for Kirkland Lake.
"I don't think we were ready to start the game," said Thunderbirds coach Jordan Smith. "We got in a hole early and it's tough to come back against a team like Kirkland Lake. It seemed when we did get momentum and we did get within reach, we had a breakdown and they hurt you on the breakdowns."
The Gold Miners added a pair of second period goals to increase the lead to 4-1 through 40 minutes. The two goals capped off the night for Thunderbirds goaltender Brian Kment. Jonathan Langford and Jeremy Picard-Fiset had the second period goals for Kirkland Lake with a Thunderbirds goal by Medric Mercier sandwiched between them.
Joel Horodziejczyk came into the game in the third period for the Thunderbirds. It was the first action since a 5-4 loss in the Thunderbirds playoff opener for Horodziejczyk, who missed time due to injury. Kment made 10 consecutive starts in the process.
The Thunderbirds would cut the Gold Miners lead to 4-2 at 5:06 of the third period when Jaren Bellini's shot from the right side found its way past Jeremy Pominville after appearing to be redirected by Darcy Haines. Bellini would get credit for the goal. Kirkland Lake would restore their three goal lead as Langford would score his second of the night on a rebound at 10:09. Gavin Burbach would score a power play goal for the Thunderbirds at 14:28 but the Thunderbirds couldn't cut any further into the Gold Miners lead.
"The second and third periods were a totally different game," said Smith. "We dominated at times. We outshot them and out-chanced them but when you get down to a team like them it's just so tough."
Gold Miners coach Marc Lafleur called game two a gut check for his team adding that the Thunderbirds are a team that has the ability to battle back in any game.
"You could have a five-goal lead against them and it doesn't matter," Lafleur said. "They have enough firepower. They're very disciplined in their positional play. If you take your foot off the gas pedal like we did, they're going to come back and sting you. We learned from the last 10 minutes or so of the game that you can't let down against these guys."
Lafleur added that, regardless of the outcome of the opening two games, he stressed staying focused on the task at hand.
"If you would have told me we would have been tied 1-1 after this game, I would have been happy. You have to take one game at a time and even if we would have lost this one, I would have told you the same thing. Nothing is as good as it seems and nothing as bad as it seems," Lafleur said. "Reality is somewhere in the middle. Even if we would have been down 2-0 (in the series), we would need to stay focused."
Kment finished the night with 13 saves on 17 shots in two periods of work.
"I don't think Brian can be at fault for any of the goals," said Smith. "I felt that our defence had a tough night. Give Kirkland Lake credit. They're a very good team and they make you pay for your mistakes and that's the example that we saw tonight."
Horodziejczyk stopped five shots in the third period.
"It was nothing that Brian did to make us take him out of the game," Smith said of the goaltending change. "We wanted to give Joel some action. He hasn't played in a long time now so we thought it would be a good time to get him in there."
Kirkland Lake goaltender Jeremy Pominville stopped 30 shots.
"The message is clear to our fellas that we need to be ready to go," Smith said heading into game three. "This is a time of year when you need to be at your best. You can't afford to have lapses and that was the case tonight."
Games three and four are set for Apr. 17 and 18 in Kirkland Lake with game five back in Sault Ste. Marie on Apr. 20. All three are 7:30 p.m. starts.
File photo by SooToday.com's Kenneth Armstrong