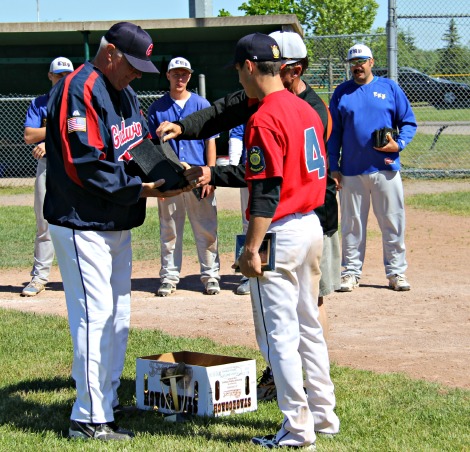 For the fourth straight year, and 10th time overall, Gladwin Post 171 took home the tournament title at the Black Sox Invitational baseball tournament, held locally over the weekend.
Gladwin beat the Soo, Michigan-based EUP Post 3 Travelers 9-3 Sunday afternoon in the final.
Steven Bauman had three hits in the win while knocking in a pair of runs. Dylan Brown, who was named the tournament most valuable player, had a pair of hits and knocked in three runs in the title game.
"The boys played really well," said Gladwin manager Terry Brokoff. "We hit the ball well, played good defence and our pitching was good. I'm proud of the boys."
Gladwin advanced to the final thanks to a semi-final win over Team North.
The game represented the last six tournament champions. EUP won the title in 2010 while Gladwin took the title in 2009 along with the last four.
The Travelers advanced to the final thanks to a 13-12 extra inning win over the host-Soo Black Sox.
The Black Sox finished the round robin with a 1-2 record prior to the tough semi-final loss, in which the locals erased a 9-4 Travelers lead with a late inning rally.
"That was the most positive thing was that we were trailing 9-4 and kept hanging around and then all of a sudden we put it together," said Black Sox manager Mike Lebel. "We got it to extra innings and both teams had their chances."
Brad Manson reached base five times in six trips to the plate for the Black Sox with five of the locals 18 walks in the game. Adam Bouillion reached base three times with a single a walk and a hit by pitch. Colton Read, Dom Buonomo and Eric Thornton had two singles each in the game.
"In the month of May we struggled to score runs," said Lebel of the Black Sox early season offence. "It was nice to see the kids get some good swings on the ball. We're starting to see some positives there."
The Black Sox enjoy a day off on Monday before hosting Newberry in a double header on Tuesday night.
For a recap of day one, click here
For a recap of day two,, click here
Photo: Dylan Brown of Gladwin accepts the tournament MVP trophy