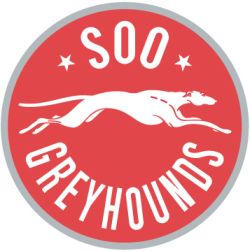 The Soo Greyhounds will look to rebound on Monday afternoon as they end the 2012 portion of their schedule on home ice.
The Greyhounds face the Saginaw Spirit in a 4 p.m. start at the Essar Centre and will look to bounce back after a 4-1 loss in Sudbury on Sunday afternoon. Sunday's loss snapped a four-game winning streak for the Greyhounds.
The Greyhounds currently sit tied with the Plymouth Whalers in the Ontario Hockey League's Western Conference standings with 38 points though the Whalers have a pair of games in hand. The Whalers are also in action as they are in Windsor to face the Spitfires, a team that is four points back of both clubs.
Meanwhile, the Spirit currently sit three points behind the Greyhounds and Whalers.
The Spirit enter action on Monday coming off an 8-3 win over the Spitfires on Saturday night. Jimmy Lodge led the way with a goal and three assists. Garret Ross and Eric Locked chipped in with two goals and an assist each. Nick Moutry also scored twice in the win.
The Spirit are currently without starting goaltender Jake Paterson, who is competing with Team Canada in Ufa, Russia at the World Junior Hockey Championships. The team is also without leading scorer Vincent Trocheck. Trocheck is also in Russia, competing with Team USA. Paterson is the third goaltender on the Canadian team while Trocheck scored a pair of goals in Team USA's victory over Slovakia earlier in the day on Monday.
Trocheck leads all Saginaw players in scoring in games against the Greyhounds with seven points in five games. Nick Cousins leads all Greyhounds in scoring against the Spirit with 12 points, also in five games.
Rookie defenceman Brandon Prophet is also out of the lineup for the Spirit as he competes at the World Under-17 Hockey Challenge in Quebec where he is a teammate of Greyhounds forward Jared McCann.
Matt Murray is expected to get the start for the Greyhounds on Monday and had posted a 3-0 record against Saginaw this season. Rookie Spirit goaltender Nikita Serebryakov will likely get the start with Paterson away. The rookie netminder has a loss and an overtime loss against the Greyhounds in two starts this season.
***********************
Game Day Preview Proudly Sponsored by WINMAR:
Call WINMAR today at 705 946 8765 or click here for WINMAR Sault Ste. Marie!