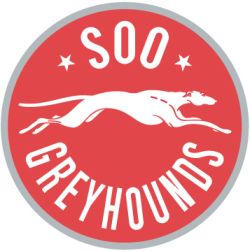 In one of five games on the Ontario Hockey League schedule on Wednesday night, the Soo Greyhounds wrap up a three-game road trip in Sudbury against the Wolves.
Both teams enter action in a battle for positioning in the Ontario Hockey League standings.
The Greyhounds currently sit in seventh in the OHL's Western Conference, three points behind the Plymouth Whalers and six points behind the Guelph Storm. The Greyhounds also trail the West Division-leading Sarnia Sting – who are second in the conference thanks to being the division leader – by four points.
In the Eastern Conference, the Wolves sit fourth as they ride a hot streak that has seen them win seven of their last 10 games. The Wolves have 50 points and are tied with the Brampton Battalion in the standings but have a game in hand. The Wolves are five points behind the third-place Belleville Bulls though the Bulls have three games in hand.
Wednesday will mark the fifth meeting between the two teams this season with the Greyhounds having won three of the previous four meetings. The Wolves won the most recent meeting, a 4-1 decision in Sudbury on Dec. 30.
In the previous four games between the two clubs, defencemen Ryan Sproul, Colin Miller and Darnell Nurse along with forward Brandon Alderson each have four points against the Wolves. Mathew Campagna leads the Wolves in scoring against the Greyhounds with a goal and four points.
Greyhounds goaltender Matt Murray has started all four games against Sudbury posting a 3-1 record with a 3.19 goals against average and a .924 save percentage.
The Greyhounds will face a very different Wolves team from the one they saw in December as the Wolves made a pair of moves that saw defenceman Justin Sefton dealt to London while defenceman Frank Corrado, forward Josh Leivo and goaltender Joel Vienneau were dealt to Kitchener prior to the OHL's trade deadline.
Other games in the OHL on Wednesday night include:
Erie vs. Saginaw
Mississauga vs. Sarnia
Owen Sound vs. Barrie
Belleville vs. Oshawa
***********************
Game Day Preview Proudly Sponsored by WINMAR:
Call WINMAR today at 705 946 8765 or click here for WINMAR Sault Ste. Marie!