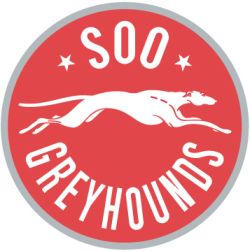 The Soo Greyhounds return to home ice on Wednesday night when they host the Sarnia Sting in a key divisional matchup at the Essar Centre.
The Greyhounds return to action after a tough road trip that saw them come home with one win in three outings.
The two teams remain in a battle in the Ontario Hockey League's West Division with the Plymouth Whalers for top spot. The Whalers currently hold top spot with 65 points, the Sting sit second with 63 while the Greyhounds are one point behind the Sting with 62 points.
Wednesday marks the seventh meeting between the two clubs. The previous six meetings have been split.
On top of the implications on the standings, the game also features a side battle between the top two scorers in the league. Sting forward Charles Sarault currently leads the OHL in scoring with 20 goals and 85 points. Greyhounds forward Nick Cousins is second with 21 goals and 84 points. Sting forward Reid Boucher is also among the league leaders, sitting fifth with 74 points. Boucher leads all goal scorers with 49 goals. Sarault and Cousins are also first and second respectively in assists.
The Sting have been without forward Alex Galchenyuk, who stuck with the NHL's Montreal Canadiens out of training camp. Rookie forward Nikolay Goldobin has been big for the Sting, leading all rookies with 24 goals and he sits second among rookie players in points with 50.
Prior to arriving in town on Tuesday night, the Sting announced the signing of Soo North Stars forward Ryan Vendramin. Selected by the Sting in the 13th round of the 2012 OHL Priority Selection, Vendramin posted 47 goals in 34 games with the North Stars during the Great North Midget League regular season.
Five other games are on the OHL schedule on Wednesday night, including:
Erie vs. Niagara (7:00 p.m.)
Ottawa vs. Barrie (7:00 p.m.)
Owen Sound vs. Guelph (7:00 p.m.)
Belleville vs. Kingston (7:05 p.m.)
Saginaw vs. Plymouth (7:11 p.m.)
***********************
Game Day Preview Proudly Sponsored by WINMAR:
Call WINMAR today at 705 946 8765 or click here for WINMAR Sault Ste. Marie!