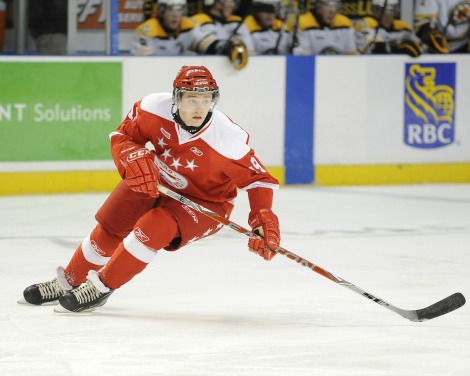 Former Soo Greyhounds forward Brett Findlay will get a shot to play in the American Hockey League in 2014-15.
The 21-year-old has signed a contract with the Toronto Marlies, the top affiliate of the NHL's Toronto Maple Leafs.
Findlay spent the 2013-14 season with the ECHL's Alaska Aces where he won a playoff championship.
In 32 games with the Aces, Findlay scored 13 goals and 25 points and added three goals and 11 points in 19 games during Alaska's run to an ECHL title. The Echo Bay native joined the Aces after his previous team, the ECHL's San Francisco Bulls, ceased operations midway through the season. In 37 games with the Bulls in 2013-14, Findlay had nine goals and 29 points.
Findlay spent two seasons with the Greyhounds after signing with the team as a free agent. He spent his final OHL season with the Peterborough Petes.
Photo courtesy Aaron Bell/CHLImages